Ho Chi Minh City Sends Gifts to Overseas Vietnamese, Laotians in Need
500 gifts were given to overseas Vietnamese and locals in Laos who were affected by the pandemic to show the sentiment of leaders and citizens of Ho Chi Minh City.
Ho Chi Minh City's Committee on Overseas Vietnamese held a delegation to Vientiane, Lao, giving gifts to more than 500 overseas Vietnamese and Lao citizens in difficult circumstances on June 4.
Each gift is worth VND 1 million (US$ ), funded by the state budget and donations from overseas and local citizens, businesses and organizations.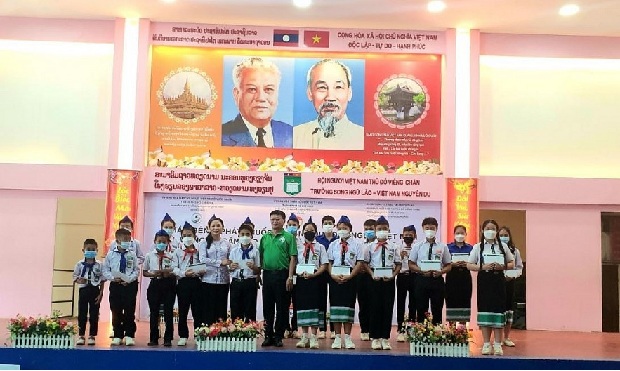 Vo Thanh Chat, Vice Chairman of Ho Chi Minh City's Committee on Overseas Vietnamese (in green) presents gifts to students at the Nguyen Du Lao-Vietnamese Bilingual School at Dongaleb village, Vientiane, Laos.
Besides showing sentiment for the lives of Vietnamese in Laos, the gifts contribute to strengthening the solidarity and friendship between the two peoples in the development and international economic integration, responding to the "Vietnam - Laos, Laos - Vietnam Year of Friendship and Solidarity 2022"; celebrate the 60th anniversary of diplomatic relations and the 45th anniversary of the Treaty of Friendship and Cooperation between Vietnam and Laos.
Speaking at the gift-giving ceremony, Vo Thanh Chat, Vice Chairman of Ho Chi Minh City's Committee on Overseas Vietnamese said: "The gifts do not have high material value, but they show the affection of the leaders and people of Ho Chi Minh City to overseas Vietnamese and Lao people in difficult circumstances, to encourage them to overcome the pandemic."
"Through the visit, we wish the Vietnamese community in Laos and Laotians good health. We hope they strive to improve their lives and contribute to the construction of Laos. I hope Laotian leaders of the authorities at all levels continue to create favorable conditions for overseas Vietnamese to study and work to improve their quality of life."
Within the framework of the trip, the delegation also visited and worked with the Vietnamese Embassy in Vientiane to learn about the situation of Vietnamese expatriates in the capital of Laos.
Ho Chi Minh City People's Committee assigns the Committee on Overseas Vietnamese to hold annual medical support to show the affection of Ho Chi Minh City's leaders and people to the expatriate community who have difficult living circumstances in Laos.
Such activities also aim to inform Vietnamese in Laos about the country's foreign policy, policies of the Party and State about the overseas Vietnamese community, and about the country's achievements over the years. Thereby, it has contributed to encouraging the Vietnamese in Laos to stay attached to their homeland.
The year 2022 celebrates the 11th visit held by Ho Chi Minh City's Committee on Overseas Vietnamese to provide medical examination, medicine, and presents to Vietnamese expatriates and Lao people. In 2021, due to the pandemic, the committee held a ceremony to give gifts at the border gate.
Q.Hoa t.h / Thoidai