Japanese outgoing ambassador honoured
A ceremony was held in Hanoi on March 20 by the Vietnam Union of Friendship Organisations (VUFO) to present a commemorative medal to Japanese outgoing ambassador Umeda Kunio.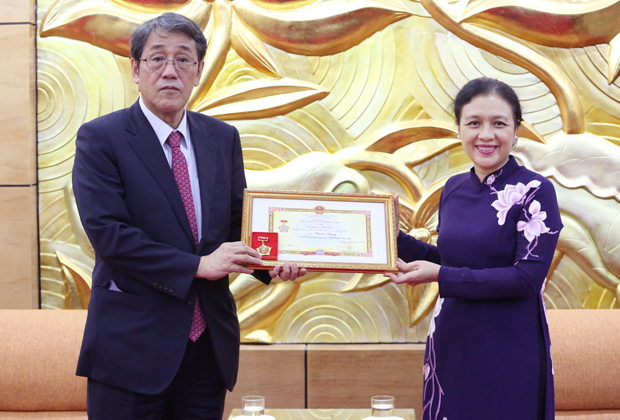 VUFO President Nguyen Phuong Nga (R) presents medal to the outgoing Japanese ambasador (Photo: TV)
VUFO President Nguyen Thi Phuong Nga presented the medal "For Peace, Friendship among Nations" to the diplomat and said the honour is to recognise his valuable contributions to the consolidation and strengthening of the mutual understanding, friendship, solidarity and cooperation between the two peoples.
Since October 2016, the ambassador has made very active contributions to the boosting of bilateral relations in every field. He has always given attention and support to the VUFO and the Vietnam – Japan Friendship Association.

Besides, the diplomat has also made active contributions to the organisation of various cultural events and accelerated the cooperation between the two countries' firms and localities, as well as the implementation of assistance projects of the Japanese government in Vietnam's provinces and cities.

Nga expressed her belief that in the coming time, Umeda will continue his active contributions to the consolidation and development of bilateral solidarity, friendship and cooperation in whatever position he will hold.

For his part, the Japanese diplomat affirmed bilateral relations will further develop, and pledged to do his utmost to foster the ties.

Vietnam and Japan established official diplomatic relations on September 21, 1973. In 2009, the two established their bilateral strategic partnership and upgraded it to the extensive strategic partnership for peace and prosperity in Asia in March 2014.

Bilateral trade last year amounted to US$40 billion. Japan is among Vietnam's top foreign investors. The Vietnamese community in Japan now numbers about 370,000.
T.h / VUM