MAG clears explosive remnants of war to support the development of affected communities in Vietnam
Mines Advisory Group (MAG) is a humanitarian non-governmental organization clearing explosive remnants of war in current and former conflict zones. Established in the UK in 1989, its work has helped more than 17.7 million people in conflict-affected communities in over 40 countries, giving them greater safety and the opportunity to rebuild their lives, livelihoods and futures.
So far, MAG has destroyed nearly 4.8 million landmines and unexploded bombs and five billion square meters of contaminated land has been made safe and released back communities. MAG was one of the joint awardees of the 1997 Nobel Peace Prize for its contribution to the International Campaign to Ban Landmines which culminated in the signing of Mine Ban Treaty in 1997 (also called the Ottawa Convention).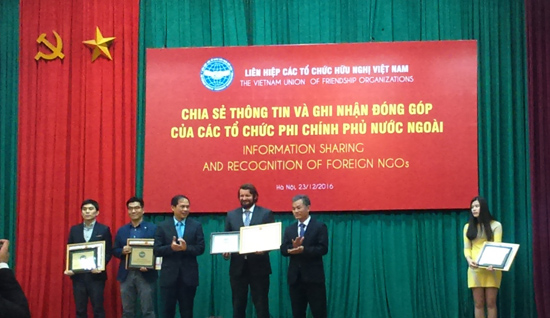 Country Director Bekim Shala (second from right) represents MAG Vietnam to receive the Certificate of merit awarded by VUFO in December 2016
In Vietnam, MAG started operations in Quang Tri in 1999, and then expanded to Quang Binh in 2003. MAG also completed a two-year project in Quang Nam (2012 - 2014). MAG is currently working in Quang Binh and Quang Tri, the two most unexploded ordnance contaminated provinces of the country.  MAG is one of the largest civil mine action operators in Vietnam. MAG was honored to be the only demining NGO awarded for its significant contribution to the sustainable development of Vietnam in two consecutive years, 2015 and 2016. 
The current key areas of MAG's work in Vietnam include Community Liaison (CL), Explosive Ordnance Disposal (EOD) and Battle Area Clearance (BAC).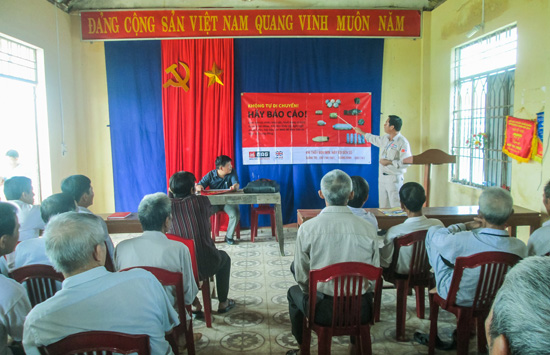 MAG's CL Team delivers a session of Risk Education to communities during a village meeting held in Quy Ha village, Trieu Do commune, Trieu Phong district, Quang Tri
MAG's Community Liaison Teams work directly with communities to conduct village meetings and household interviews to collect information about dangerous areas. Also, the teams complete pre and post-clearance surveys to evaluate the impact of MAG's work on communities. Another activity of CL teams is to provide Risk Education to the most vulnerable groups to educate people how to live safely alongside UXO until land is cleared. 
MAG's Explosive Ordnance Disposal Teams respond to emergency requests to destroy items of UXO that pose an immediate threat to safety. These items are reported to MAG directly during village meetings and also via a Hotline Number that has been established to enable people to report items as soon as they find them.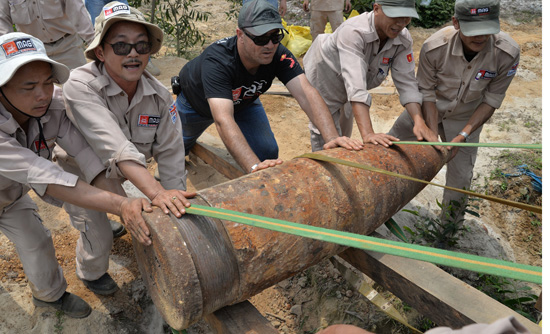 MAG's technicians loads a 16 inch projectile found in Gio Linh district, Quang Tri to the truck for transporting it to the safe demolition site for disposal
MAG deploys Mine Action Teams to conduct Battle Area Clearance on contaminated land in order to facilitate onward agricultural production, infrastructure development and socio-economic initiatives.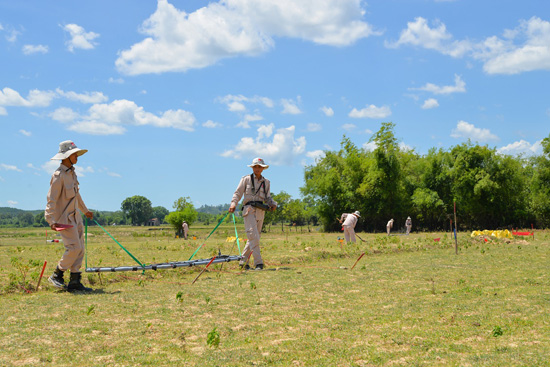 MAG's technicians detect cluster munitions and other types of UXO on a site in Cam Lo district, Quang Tri
Since 1999, MAG has removed and destroyed approximately 290,000 items of UXO to release over 43 million square metre of safe land to support agricultural development and construction of infrastructures. 
As a result of MAG's work, hundreds of thousands of Vietnamese people can now live without fear; vital infrastructure projects have gone ahead such as construction of much needed schools, roads and health centers; rural poor communities can grow more food and make a better living and know that their children can walk to school in safety; and members of communities most at-risk of being involved in a UXO accident are aware of the dangers and how best to minimize their chance of being involved in an incident.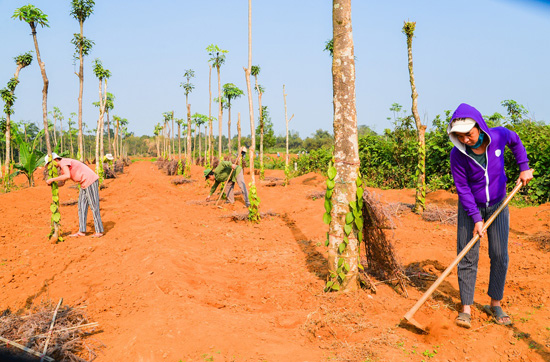 Local residents in Cam Lo district, Quang Tri safely plant and tender their pepper plantation after MAG's clearance

MAG