Norway Helps Quang Nam in UXO Clearance and Livelihood Support for Vulnerable Households
The Norwegian People's Aid (NPA) has pledged to maintain coordination with relevant agencies of the central province of Quang Nam to speed up the process of achieving operation permit certificate in Quang Nam in the near future.
Vice Chairman of the Quang Nam Provincial People's Committee Tran Anh Tuan together with representatives of relevant departments and agencies recently had a meeting and worked with Norwegian People's Aid (NPA) Vietnam delegation led by its Country Director Jan Erik Støa.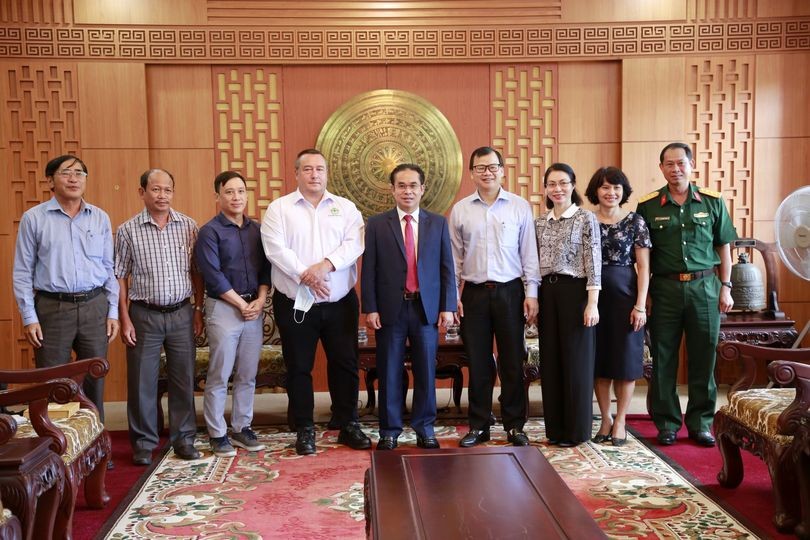 At the working session between representatives from Quang Nam province and Jan Erik Stoa, Country Director of NPA. Photo: songoaivu.quangnam.gov.vn
At the meeting, Vice Chairman Tuan discussed the current situation of explosive ordnance (EO) contamination in the province, as well as many economic development solutions implemented by the province, especially focusing on mine action.
However, Quang Nam province's need for disposal of EO remnants is rather huge and it is suggested that the NPA considers and supports the province in the areas of EO survey and clearance; environment, land and water pollution handling, land pollution, water pollution; EO risk education; victims assistance; support in infrastructure building to serve for the local production and cultivation to improve their livelihoods.
Quang Nam is the province with the third highest level of landmine pollution in the country, and the second most affected province.
According to a survey report on landmine contamination of the Vietnam National Mine Action Center (VNMAC), there are 226 out of 239 communes in Quang Nam province affected by landmines left over from the war. A total of 360,097 hectares of land were contaminated with landmines, accounting for 34.6% of the total area of ​​the province.
As a result, Quang Nam province has suffered many accidents related to landmines. There were a total of 4,820 victims (2,602 dead and 2,218 injured) between 1975 and 2012, 121 victims in the five years from 2011 to 2015 alone (60 dead and 61 injured).
Through the discussion, Jan Erik Støa introduced an overview of the projects that NPA has funded for the provinces of Vietnam in the past time and revealed that Quang Nam is one of the priority provinces of NPA in the orientation plan to expand its mine action support activities in Vietnam, as well as requesting Quang Nam province to support the process of achieving operation permit certificate in Quang Nam in the near future.
Tuan committed to direct relevant departments and agencies to support with this issue and to assign the Department of Foreign Affairs to act as the focal point to directly work with the NPA to organize study visit to Quang Tri province to learn more about mine action operation, to proceed the discussion the content and signing of a Memorandum of Understanding and to support related procedures at the request of the NPA.
The NPA, founded in 1939, is one of Norway's largest non-governmental organizations and has been involved in mine clearance activities in Vietnam since 2008.
It has a permit to operate in the following provinces/cities: Hanoi, Quang Binh, Quang Tri, Thua Thien Hue and Kon Tum. NPA also has 15 years of experience in the field of mine action in Vietnam.
Vietnam aims to eliminate accident caused by post-war bombs, mines and unexploded ordnance in any corner of the country by 2025.
Q.Hoa t.h / Thoidai