RoK Supports Vietnam's Education Sector
Within the context of Vietnam's rapid socio-economic development, children who fail to access quality education deprive the country from a source of dynamic growth.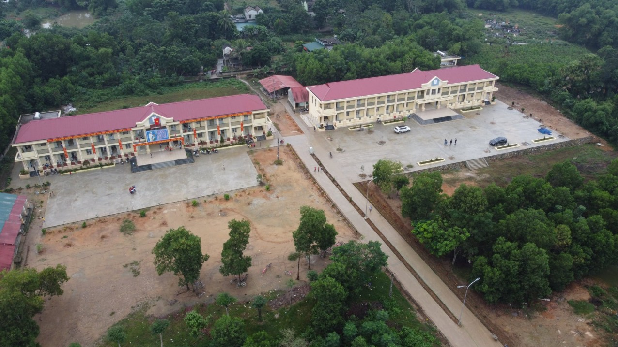 A overview of Dinh Thai Primary School and Thai Hoa Secondary School. Photo: KOICA Vietnam
Over many years, the Korea organizations have been focusing on supporting Vietnam's education sector.
The Office of Korea International Cooperation Agency (KOICA) in Vietnam on Jan. 12 attended the inauguration ceremony of Dinh Thai Primary School and Thai Hoa Secondary School.
This is a project within the framework of the Tuyen Quang Province Rural Development Project, as funded by the Republic of Korea (ROK) through the KOICA in Vietnam.
Tuyen Quang province, 170km north of Hanoi capital, is a locality with a long history in the independence of Vietnam. Since 1945, during the nine years of the resistance against French colonialism, Tuyen Quang used to be the revolutionary base of the revolutionary government led by President Ho Chi Minh.
However, due to the peculiarity of being a mountainous province, lack of medical and educational facilities, limited access to transportation, and scanty area of ​​agricultural land capable of cultivation, Tuyen Quang is still classified in the group of poor provinces of Vietnam.
With a total investment of US$15 million, the Tuyen Quang Rural Development Programme focuses on empowering women, improving sustainable livelihoods, building capacity and improving the quality of healthcare and education, towards comprehensive and sustainable development in difficult communes across Tuyen Quang, as well as improving the quality of life of local people.
On the occasion, the provincial leaders had a meeting with the Korean side, during which they shared information about Tuyen Quang's socio-economic achievements in recent years, including the value of the support from the Korean side.
Chairman of Provincial People's Committee Nguyen Van Son thanked the KOICA for all their contribution, at the same time, awarded a certificate of merit in recognition of personal contributions to Cho Han Deog, country director of KOICA Vietnam.
Son also presented a certificate of merit to Rah Mi Hye, deputy country director of KOICA Vietnam, on the occasion of Rah's end of her working term in Vietnam.
Chairman of the People's Committee of Tuyen Quang Province, KOICA Country Director in Vietnam and other participants cut the ribbon to inaugurate the two primary schools.
KOICA Vietnam presented 250 school bags made by deaf students directly at a Vietnamese social enterprise, and 20 soccer balls as gifts to students of two schools.
The Korea Vietnam Culture Communication Center (KCCC) also inaugurated the US$-200,000 DREAM SEED Educational and Cultural Center in Tan Thai commune, Dai Tu district, Thai Nguyen province.
This is a two-storey house with a total construction area of ​​396 m2. All funding is sponsored by Vatech Networks Corporation of Korea through the KCCC.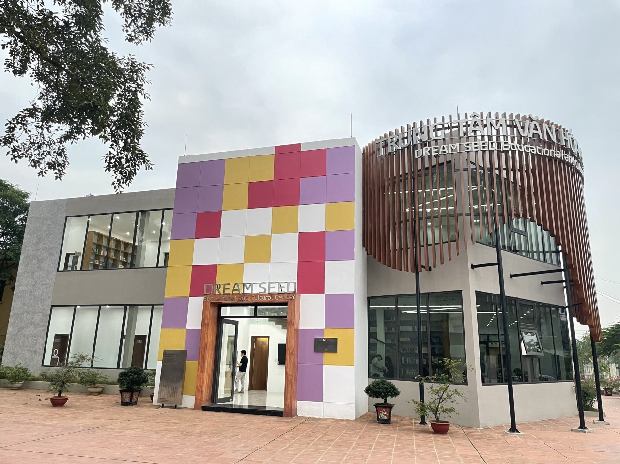 The DREAM SEED Educational and Cultural Center in Tan Thai commune, Dai Tu district, Thai Nguyen province.
The center is equipped with comfortable facilities to meet an open library for reading books and newspapers. In addition, the center has classrooms and community rooms to hold additional knowledge courses such as: foreign languages, agricultural scientific and technical knowledge training, environmental sanitation, and cultural activities for students and people in Dai Tu district.
The center has a library for students and residents with many books and newspapers.
The center will serve as a place to carry out cultural exchange activities between Vietnam and Korea and volunteer medical care for the local people.
Source: Thoidai