Vietnam, Chile celebrate 50 years of diplomatic ties
Many people-to-people exchange activities are planned to mark the 50th founding anniversary of diplomatic ties between Vietnam and Chile.
On June 16, President of the Vietnam Union of Friendship Organizations (VUFO) Nguyen Phuong Nga met with Chilean Ambassador Patricio Arturo Becker in Hanoi. The Chillean ambassador's new assignment in Vietnam is another milestone between the two countiries.
Also attending the meeting were Nguyen Van Tich, chairman of the Vietnam-Chile Friendship and Cooperation Association, former Ambassador of Vietnam to Chile; Le Duy Truyen, standing vice chairman of the association; leaders, officials of the VUFO's America Department and staff of the Chilean Embassy in Hanoi.
At the meeting, Nga introduced to Ambassador Patricio Becker about the history of formation, mission, activities and results achieved in the people-to-people affairs of VUFO.
The two sides also discussed plans to coordinate activities in the next six months, which also aim to mark the 50th anniversary of the establishment of diplomatic relations between Vietnam and Chile (March 25, 1971- 2021).
Nga affirmed the desire of the two sides to maintain and continue to develop economic relations, enhance understanding and people-to-people exchanges through cultural and artistic exchange activities such as organizing photo exhibitions, arts performances.
Speaking at the meeting, Ambassador Patricio Becker expressed his hope to promote economic cooperation with Vietnam, especially in the field of agriculture, as well as strengthen the good relations between the two peoples.
When the Covid-19 situation is better controlled, the Chilean Ambassador wishes to have the opportunity to visit and work in some Vietnamese localities to explore opportunities and connect businesses of the two sides, expanding cooperation and developing bilateral trade relations.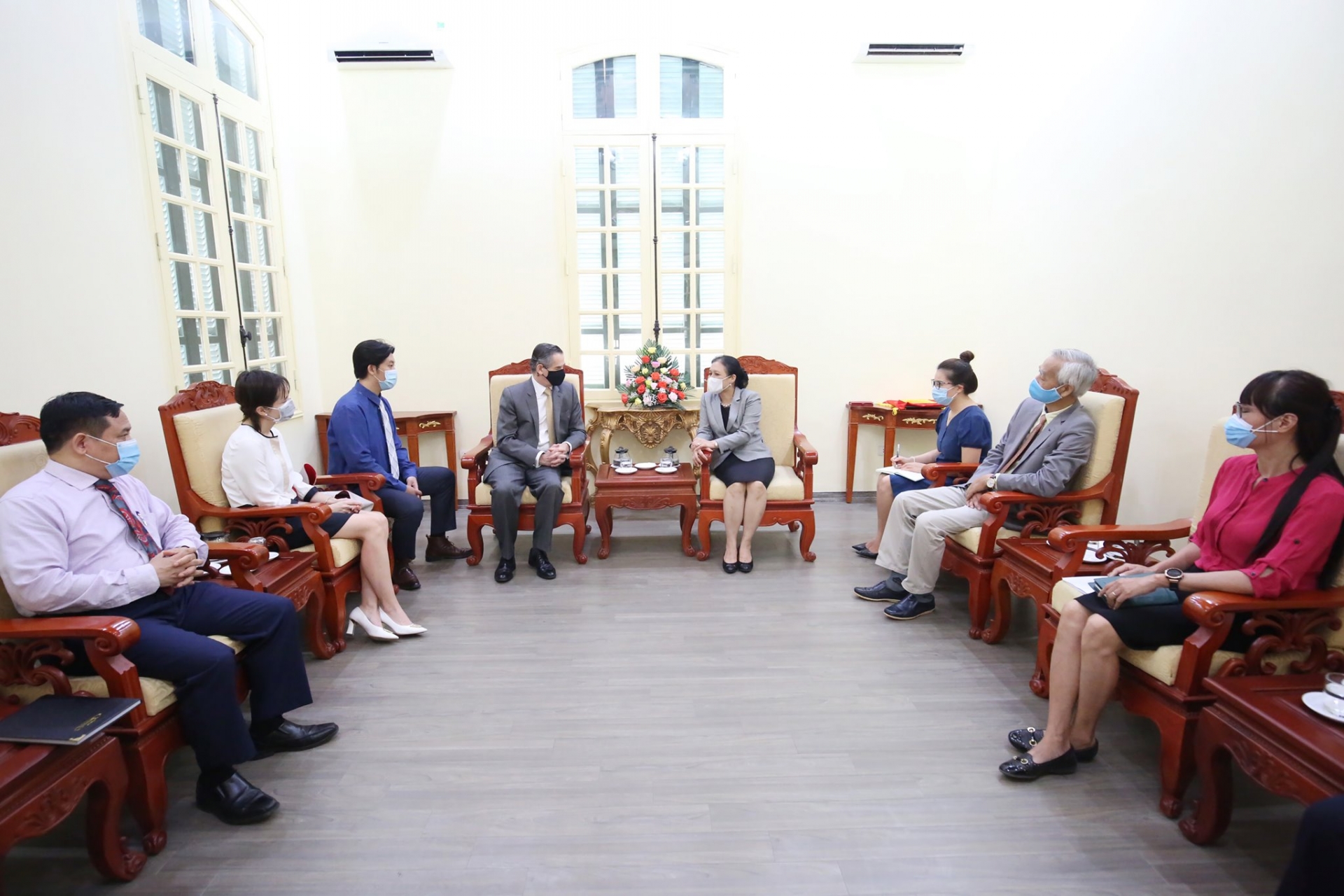 Overview of the meeting. Photo: Tuan Viet/VUFO
Vietnam - Chile relations are on the way of development and especially economic and trade relations have achieved positive results.
The two-way trade turnover reached USD 1.28 billion in 2020 despite the Covid-19 pandemic, representing a year-on-year increase of 1%. For the first time, Vietnam's exports to the Chilean market reached over USD 1 billion.
Particularly in the first four months of 2021, trade turnover between the two countries continued to maintain a good growth momentum, reaching USD 401.1 million, up 15.3% compared to the same period in 2020. Of which, Vietnam's exports to Chile reached USD 321.3 million, up 11.8%, while Vietnam's imports from Chile reached USD 79.8 million, up 31.6%.
Chile was the first Southern American nation to set up diplomatic ties with Vietnam. In addition, Chile was among one of the very first nations to recognize Vietnam's market economy./.
Q.Hoa t.h / TĐ