Vietnam, Denmark forge people-to-people exchange
Ambassador Luong Thanh Nghi has suggested the Vietnamese Embassy in Denmark and the Denmark-Vietnam Friendship Association (DAVIFO) coordinate with relevant agencies in organising forums for young people of the two countries to serve as nucleus for their bilateral ties.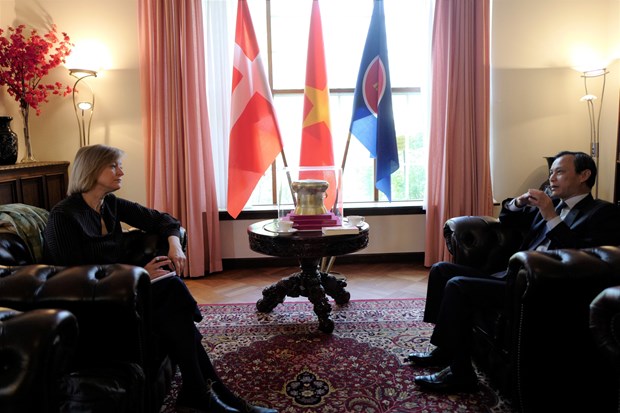 Ambassador Luong Thanh Nghi and DAVIFO President Trine Glue Doan (Photo: VNA)
The two sides should join hands in launching activities like cuisine festivals, photo exhibitions and dialogues between prestigious writers and artists, and audiences to promote the Vietnamese and Danish cultures, he said at a meeting with DAVIFO President Trine Glue Doan on May 17.

The diplomat noted with pleasure the close coordination between DAVIFO and the Vietnam-Denmark Friendship Association under the Vietnam Union of Friendship Organisations (VUFO), with practical activities held in Hanoi, Da Nang, Ho Chi Minh City and other Vietnamese localities.

Vietnam always pays attention to improving living standards of its people, especially those in remote and disadvantaged areas, and vulnerable groups, he said, pledging that the embassy will support DAVIFO in activities aiming to raise material and spiritual life of Vietnamese people.

The embassy will also step up people-to-people exchange, cultural and educational cooperation, friendship and mutual understanding between  the peoples of the two countries, he continued.

Trine Glue Doan briefed Nghi on a number of DAVIFO projects in Vietnam, covering the supply of medical equipment to local hospitals and support to disadvantaged children.

These projects target underprivileged groups, especially children, and rural and remote residents, she said.

According to the President, DAVIFO will mobilise capital to expand the projects to new fields like educational and cultural exchange by organising programmes featuring Vietnamese culture and arts, and opening Vietnamese cooking courses for Danish friends./.
Q.Hoa t.h / VNA