Cambodian Deputy PM values Vietnam's support for education sector
A ceremony to present the Vietnam Government's gift to Cambodia's education sector was held in Prey Veng province, 100 km east of Phnom Penh capital city of Cambodia on June 25.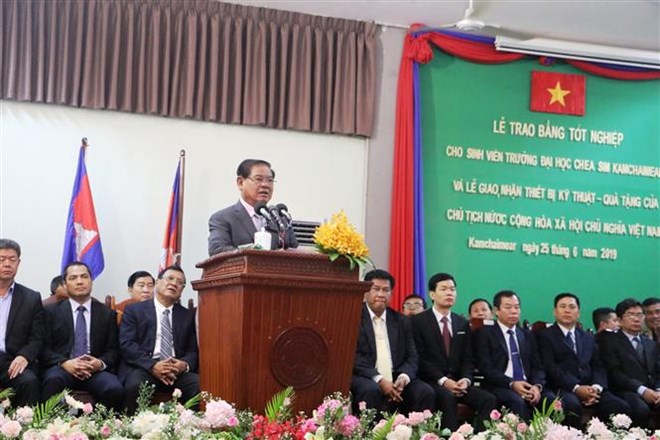 The event was attended by Cambodian Deputy Prime Minister and Minister of Interior Affairs Samdech Sar Kheng, Minister of Education, Youth and Sport Hang Chuon Naron, and Vietnamese Ambassador to Cambodia Vu Quang Minh, along with more than 1,550 students of Cambodia's Chea Sim University of Kamchaymear.
The gift includes coaches, agricultural machinery and technical equipment worth 1 million USD. 

Addressing the event, Cambodian Deputy Prime Minister Samdech Sar Kheng thanked Vietnamese leaders for their attention and assistance to Cambodia's education and training sector. The gift will help promote education sector and technical training at Cambodian universities, thereby improving the country's human resources training quality.
On the occasion, he presented the Royal Order of Cambodia to Vietnamese Ambassador to Cambodia Vu Quang Minh and several Vietnamese officials for their contributions to Cambodia's education-training sector.
VNA