Vietnam, Philippines highly value people-to-people ties
In the meeting between President of the Vietnam Union of Friendship Organizations (VUFO) Nguyen Phuong Nga and the Philippines' Minister of Foreign Affairs, Teodoro Lopez Locsin, the two sides emphasized the importance of people-to-people diplomacy to bilateral relations.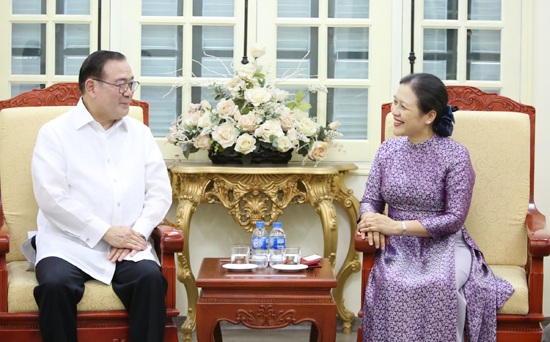 VUFO President Nguyen Phuong Nga speaks to Minister Locsin on July 8. Photo: T.V
In the reception for Minister Locsin on July 8 in Hanoi, VUFO President Nguyen Phuong Nga congratulated Philippines on various achievements in socio-economic development, especially the impressive economic growth rate.
VUFO President also took the occasion to thank the government and people of the Philippines for their supports for Vietnam in the election for non-permanent member of UN Security Council (UNSC) tenure 2020-2021. At the same time, she expressed the hope that the Philippines will keep supporting Vietnam when Vietnam official takes on this role, as well as being Chairman of ASEAN 2020.
At the meeting, VUFO President emphasized the role of people-to-people ties in bilateral diplomatic relations, extending sincere thank to the government of the Philippines for facilitating the founding of the Vietnam – Philippines Friendship Association and the Philippines-Vietnam Friendship Association.
In particular, VUFO President pleasantly informed Minister Locsin on the contribution of the two Associations in fostering two countries' ties, via effective coordination in holding various events and activities, such as: MOU signing in June 2019, the building of the statue of President Ho Chi Minh and Filippino National Hero Rizal on the campus of Thai Nguyen University; hosting various  celebrations of two sides' special occasion.
VUFO President presents welcome gift to Minister Locsin. Photo: T.V
For his part, Filippino Minister Locsin spoke highly of the two sides' bilateral ties, and agreed with VUFO President on the significant role of people-to-people diplomacy in the development of Vietnam – Philippines friendship.
Minister Locsin affirmed Philippines' commitment in standing by Vietnam's side while Vietnam takes up the new roles in UNSC and ASEAN in the time to come, contributing to the prosperity, peace and stability of ASEAN and the world.
In addition, VUFO President and Minister Locsin also exchange opinions on issues of mutual concerns such as climate change, demographic change, effects of digital revolution etc.
VNF