Laos Acknowledges Support From Vietnamese Community in Disasters and Pandemic
Vietnamese in Laos have donated to Lao people who faced difficulties due to natural disasters and pandemic.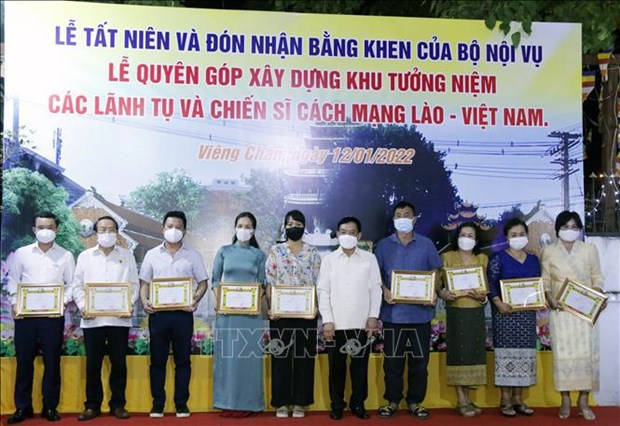 In gratitude for the support, Lao Minister of Home Affairs Thongchan Manixay awarded certificates of merit to Vietnamese individuals and collectives who have made achievements in providing relief and advocacy for needy Laos people on Jan. 12, 2022.
The ceremony was attended by Vietnam Ambassador to Laos Nguyen Ba Hung, Lao Minister of Home Affairs Thongchan Manixay, monks, nuns, Buddhists, and representatives of Vietnamese businesses in Laos.
Minister Thongchan said in recent years, Phat Tich pagoda in Vientiane and Vietnamese Buddhists in Laos have made supported Lao people facing difficulties due to natural disasters and the pandemic. The value of donation has reached billions of kip.
On behalf of the Party and State of Laos, Minister Thongchan thanked the noble acts of Vietnamese monks, nuns and practicers of Phat Tich pagoda, and the Vietnamese people and businesses in Laos for standing side by side with Laotians, providing timely support for people in difficulty such as those in flood-affected areas, centers for the disabled.
Special thanks were sent to the act of providing funds for temples and locals amid the Covid-19 pandemic.
Ambassador Nguyen Ba Hung thanked the Lao Ministry of Home Affairs for timely encouraging the good deeds of Phat Tich pagoda and Vietnamese individuals in charity work. The ceremony is a call for the Vietnamese community in Laos to continue to support needy people in the host country, contribute to the bilateral friendship.
Hung also appreciated the repair of ​​​​Phat Tich pagoda, especially the idea of ​​​​building a memorial area for leaders of the two countries in the pagoda. The area shows respect for Vietnamese President Ho Chi Minh, Lao President Kaysone Phomvihane, Laos President Suphanouvong. An area to pay tribute for heroic soldiers who died in the righteous wars for the independence and freedom of Vietnam and Lao was planed.
He called the Vietnamese community to support the reconstruction of the pagoda. USD 250,000 was donated to serve the work on the evening of the same day.
Phat Tich pagoda in Vientiane has made important contributions to the development of Vietnamese Buddhism in Laos, boosting the close relations of Buddhism in the two countries. The pagoda has supported needy Vietnamese and Laotians for years and is appreciated by the host country. The pagoda is a familiar place for cultural and spiritual activities of the Vietnamese in Laos.
Q.Hoa t.h / Thoidai