Vietnamese - American veterans meet in Hanoi
On September 16, in Hanoi, a meeting between Vietnam - U.S Society and Vietnamese veterans was held with the attendance of the "Citizens' Diplomatic" delegation of Peace Trees Vietnam (PTVN).
The meeting saw the attendance of the Ambassador Nguyen Van Huynh, Vice Chairman of Vietnam Peace Committee, Member of Vietnam - U.S Society; Ms. Claire Yunker, The Executive Director of Peace Trees Vietnam (PTVN); some officers and veterans of Vietnam; members of the "Citizens' Diplomacy" delegation of PTVN.
At the meeting, Ambassador Nguyen Van Huynh said that the Vietnam - US Society was established by President Ho Chi Minh in November 1945, two months after Vietnam's independence. The Society's mission is to engage and promote relation between Vietnamese and American people via many channels, one of which is PTVN.
The Ambassador Nguyen Van Huynh affirmed that Vietnam - U.S relations are developing strongly. Under the slogan "closing the past, looking forward to the future" the two countries have taken many practical actions.
Ms. Claire Yunker expressed her thanks for the warm welcome of the Vietnam - U.S Society and the Vietnam Union of Friendship Organizations. She shared that PTVN was established in the year that Vietnam and the U.S.A normalized relations - an extremely important milestone in the bilateral relation.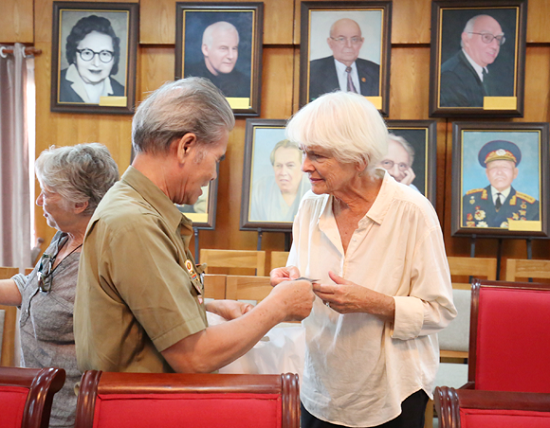 Photo: Tuan Viet. 
At the meeting, the veterans revived the wartime memories together and expressed their desire to join hands in helping Vietnam resolve the war's consequences and develop the country.
PeaceTrees Vietnam was founded in 1995 by Ms. Jerilyn Brusseau and her deceased husband, Danaan Parry. The priorities of the PTVN are to build friendship with the people of Quang Tri Province, establish peace, cooperation, and innovation through funding humanitarian projects to overcome the consequences of war.
KT