WWO - For the Brightest Smiles
The Worldwide Orphans Foundation (WWO) commits to transform the life quality of orphans and children with special needs. Since its presence in Vietnam, WWO has carried out a great deal of activities delivering comprehensive support to grant evidence based uplift of the children's development. At the end of the day, the most powerful motivation for WWO are brightest smiles of the children.
For happy smiles
After 12 years of presence in Vietnam, WWO has served nearly 4,000 children and youth living with disabilities, HIV infection or in high risk situations with 26 partners in 11 provinces and cities: Hanoi, Hung Yen, Phu Yen , Dong Nai, Vung Tau, Ho Chi Minh City, Long An, Vinh Long, Ben Tre, Can Tho and An Giang. WWO has strengthened the capacity of 1,000 staff of partners working in health, social work, social psychology, education, elements of play, treatment, skills to work with children, source trainer training, and project management skills.
In addition, WWO has provided psychosocial and well-being supports and improved communication, interaction and caregiving skills for more than 1,500 adults who are parents and caregivers of children.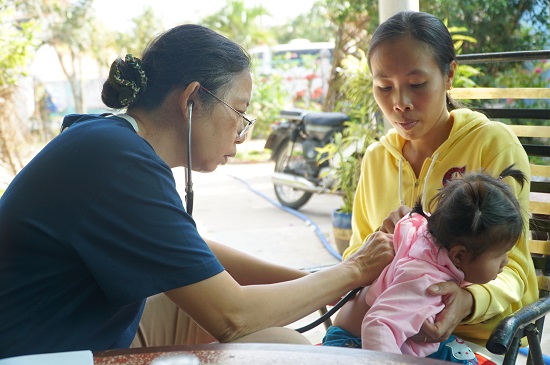 More than 800 volunteers, interns and community members have been trained on these topics to engage in effective childcare activities.
After more than 10 years of operation in Vietnam, WWO has successfully deployed some projects in beneficiary localities such as Case Management Model, Comprehensive Mental and Physical Health Care and Support Model for Children, Community-based Intervention Model, Elements of Play and Toy Library Model, and Camp Colours of Love Model.
According to WWO representatives, given limited resources, WWO has managed to perform its projects and make desirable impacts as said above because they engage and empower the community and partners throughout the project life cycle. In fact, WWO has been ranked in the top 3% iNGO in 5 years continuously in Vietnam awarded by PACCOM (2012-2017)
Thanks to the strong bonds with communities and partners. WWO strengthens their capacity, enabling them to take the lead and keep the positive changes on their children after WWO hands over. WWO defines that communities and partners always play a key role in project management life cycle, from defining needs, monitoring interventions, providing periodic visits and treatments, and re-evaluating impacts. WWO's main role is technical support and guidance.
These successes of WWO also have an integral support of central and local authorities while its projects are being carried out.
In 2018, WWO will continue to provide comprehensive care and support for children with disabilities, HIV-infected children and at-risk adolescents in 11 provinces and cities across the country, targeting at 26 partners which are comprised of schools for disabilities, social work centres, charitable houses, open houses and orphanages, and in communities. Supports will include physical health care, mental and psychologic health care, and education, vocational training and employment. Another important activity is improving the capacity of local partners and communities. Accordingly, WWO will offer necessary training courses for partner staffs working in specific conditions while assisting monitoring and evaluation of project operations to ensure transparency, equity and efficiency.
"Rabbit Doctor" at WWO
Dr Le Ngoc Oanh, medical advisor at WWO, is an outstanding professional and human being whose impactful contributions are always appreciated by WWO. Her nickname is "Rabbit Doctor", a very endearing and lovely name to children served by WWO. 
It seems that Oanh's mission is to be a doctor for disadvantaged children since she was born. She does not wear uniform to make children feel safe and warm at the WWO Clinic, the Model Centre.
Not so surprisingly, she remembers every name of her small patients although it counts up to thousands. Her patients love her very much because she not only takes care of their health but also cares about their feeling and thinking. She is among a very few doctors who have knowledge, skills and experience of social psychology to help children become more powerful, more self-reliant and more optimistic.
As one of the very first members, Oanh is present in every WWO intervention. With many years of valuable experience, she is always eager to share her knowledge and skills with colleagues, partners, caregivers and volunteers, enabling them to help children grow better. What she has contributed is not only knowledge and skills in medical interventions but also Toy Library, Life Skills, Recreational Therapy and Camp of Colours and Love for children affected with HIV. She is also an example of overachiever in her career and role model motivating the new comers in the social work field. "To have peace of mind, what we can do is doing the right things." – Oanh said.
Tapchihuunghi.vn