High expectations pinned on Austrian foreign minister's visit to Vietnam: Austrian media
Ahead of Austrian Federal Minister for European and International Affairs Alexander Schallenberg's official visit to Vietnam from April 16-18, the Austrian media simultaneously reported on the trip, expressing their expectations that it will boost the bilateral relations, especially economic ties.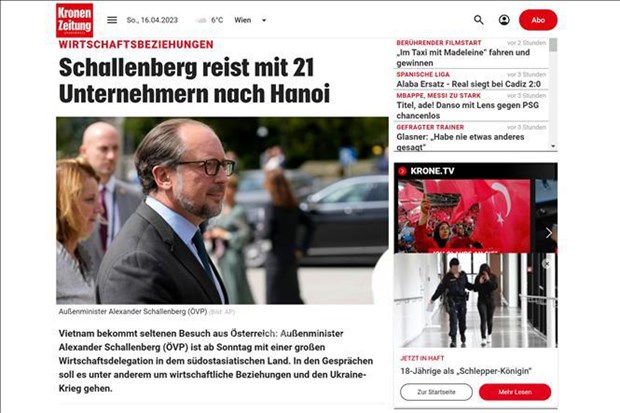 Kronen Zeitung, a daily newspaper founded in 1900 and has the largest circulation in Austria, runs an article about Austrian Federal Minister for European and International Affairs Alexander Schallenberg's official visit to Vietnam. (Photo: screenshot)
Kronen Zeitung, a daily newspaper founded in 1900 and has the largest circulation in Austria, ran an article saying that Schallenberg will have a rare visit to the Southeast Asian country with a large business delegation. The minister is scheduled to be received by Prime Minister Pham Minh Chinh, hold talks with Minister of Foreign Affairs Bui Thanh Son, and meet with Minister of Planning and Investment Nguyen Chi Dung and Minister of Industry and Trade Nguyen Hong Dien.
Accompanying the Austrian minister is a business delegation consisting of representatives from 21 major Austrian enterprises, led by Vice President of the Austrian Federal Economic Chamber (WKÖ) Philipp Gady.

Gady was quoted as saying in the article that the EU-Vietnam Free Trade Agreement (EVFTA),  which became effective in 2020, is expected to eliminate most trade barriers by the end of this decade. With bilateral trade turnover of over 1.6 billion EUR, Vietnam is currently Austria's largest economic partner in ASEAN. There are currently 60 Austrian companies with offices or branches in Vietnam.
Within the framework of his visit to Vietnam, Schallenberg is also expected to attend a business forum with the participation of representatives of businesses and agencies of the two countries. 
The daily quoted Vietnamese Ambassador to Austria Nguyen Trung Kien as saying that Austria and Vietnam complement each other economically. For example, Vietnam can accelerate the modernisation of agricultural production with support and machinery from Austria. Besides, Austrian businesses can also help promote tourism in Vietnam with Austrian cable car technology. In addition, the two sides can promote cooperation in the field of vocational training. Ahead of the visit, Schallenberg mentioned it as "Austria's strategic move to the Asia-Pacific region". 
Austrian daily newspaper Wiener Zeitung on April 15 published an article assessing that Schallenberg's visit to Vietnam aims to promote Austria's participation in Vietnam's development and diversify the supply chain due to geopolitical risks.
According to the article, Vietnam has carried out economic renovation, transitioned to a market economy, and the country has achieved high economic growth, and attracted many international investors and large corporations. 
One of the reasons why Austrian businesses seek opportunities in Vietnam is to diversify their supply chains and locate more widely to limit the risks of being too dependent on a single region, especially regarding the consequences of the conflict in Ukraine and the restrictions imposed by the COVID-19 pandemic.

The article also assesses that diversification is one of Vietnam's guiding principles, in which politics also helps promote economic relations. The Vietnamese government is attracting foreign investors with favourable framework conditions and the country with a population of nearly 100 million had signed free trade agreements with many countries.
The website Vienna.at also published an article saying that Schallenberg's visit is a reply to the visit of his Vietnamese counterpart Bui Thanh Son to Vienna in September 2022 when the two countries celebrated the 50th anniversary of the establishment of their diplomatic relations. 
In the article, Head of the Asia-Pacific Department under the Austrian Federal Ministry for European and International Affairs Bita Rasoulian said that Austria and Vietnam have many similarities in their foreign policies. 
She said the two countries will cooperate to promote multilateralism, respect for international law, and disarmament as Vietnam is one of the first countries to sign the Treaty on the Prohibition of Nuclear Weapons.
The article quoted Vietnamese Ambassador Nguyen Trung Kien who emphasised Vietnam's commitment to the principles of international law, and that Vietnam supports the settlement of disputes in the East Sea in line with international treaties, such as the 1982 United Nations Convention on the Law of the Sea (UNCLOS).
Other Austrian news sites such as Vol.at, a website of Vorarlberg state, volksblatt.at and nachrichten.at (two Oberösterreich state newspapers), and news.at also ran articles about Schallenberg's visit to Vietnam./.
Q.Hoa t.h / VNA