Vietnam Celebrates UNESCO Resolution Honouring President Ho Chi Minh
In 1987, a resolution was made by UNESCO at its 24th General Conference in Paris, France to honour the life of President Ho Chi Minh on the 100th anniversary of his birth.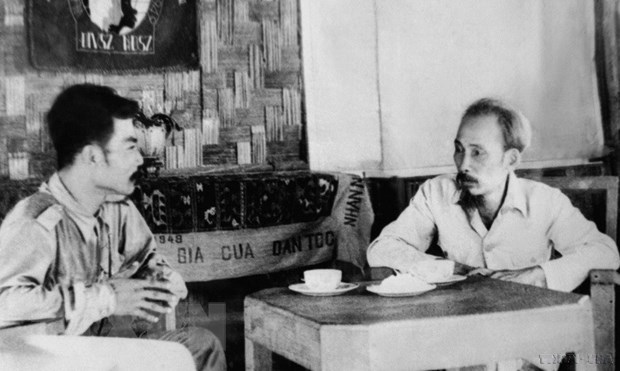 President Ho Chi Minh with Hanoi children at a music show in 1969. Photo: VNA
A ceremony was held in Hanoi on September 6 to mark 35 years of the UNESCO Resolution 24C/18.65, which honours President Ho Chi Minh as a Hero of National Liberation and a Great Man of Culture of Vietnam, VNA reported Tuesday.
The ceremony was held in both virtual and in-person forms, with the attendance of Politburo member and Standing Deputy Prime Minister Pham Binh Minh, Vice President Vo Thi Anh Xuan, visiting UNESCO Director General Audrey Azoulay, along with delegates from Vietnamese ministries, agencies, organisations and foreign agencies and organisations in Vietnam.
In his remarks, Standing Deputy PM Minh recalled that the 24th General Conference of UNESCO in 1987 adopted resolution 24C/18.65 which recommended that members celebrate the 100th birthday of President Ho Chi Minh. The resolution described Ho Chi Minh as "an outstanding symbol of national affirmation, who devoted his whole life to the national liberation of the Vietnamese people, contributing to the common struggle of peoples for peace, national independence, democracy and social progress."
For the Vietnamese nation, President Ho Chi Minh is a genius leader and a hero of national liberation, a great teacher of the Vietnamese revolution, an outstanding diplomat and the inspiration for the confidence in the victory of the struggle for national independence and people's prosperity, he stressed.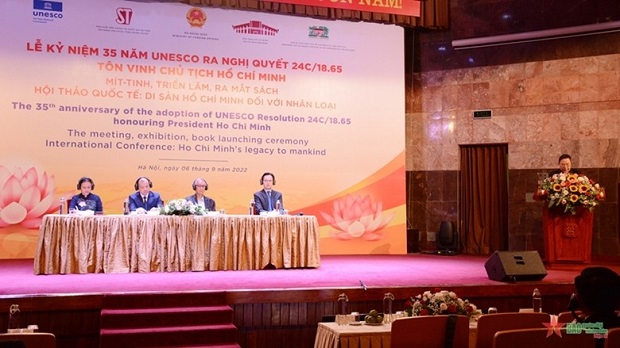 At the event. Source: PANO
Minh went on to say that for people in the world, the President is a close and loyal friend, a symbol of the aspiration for peace and the struggle against oppression and inequity, and an emissary of peace, solidarity, friendship, cooperation among nations.
Vietnamese and foreign scholars and researchers shared the view that the President's legacy has timeless value and should be spread and passed down to generations.
To the world, President Ho Chi Minh has been a close and amicable friend, and has become a symbol of peace and fighting against injustice.
"President Ho is an inspiration for Laotian people in our fight for freedom and independence," said Chanthaphone Khammanychanh, Deputy Ambassador of Laos to Vietnam.
"In loving Uncle Ho, we learned to apply his ideas into daily life," added Deputy Prime Minister Minh.
Many experts have regarded Ho Chi Minh as one of the most important people in human history. Many streets, parks and monuments across the world are named after Vietnam's founding father.
"In 1987, UNESCO has 155 member states, but the number has now grown into 193," said Audrey Azoulay, Director-General of UNESCO.
"At that time, we decided to honour two great people: India's Jawaharlal Nehru, and President Ho Chi Minh, for their legacies and contributions to this world. In my opinion, the greatest legacy that President Ho left is the rightful vision he had on education. In honouring that vision, we are actively collaborating with Vietnam in protecting their heritage and culture, in the present and the future."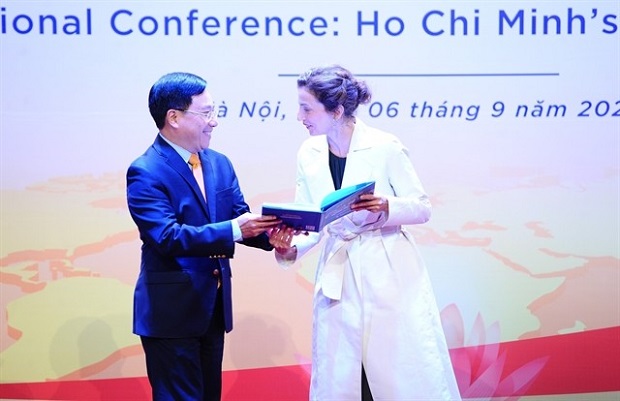 Deputy Prime Minister Pham Binh Minh presenting the book "The affection of world people for President Ho Chi Minh" as a gift for UNESCO Director-General Audrey Azoulay. VNA/VNS Photo Minh Duc
On the occasion, a bilingual book on people in the world and the late President titled "The affection of world people for President Ho Chi Minh" made its debut.
In the book, General Secretary Nguyen Phu Trong wrote: "Very few people become legendary in their lifetime such as President Ho Chi Minh, and although Uncle Hồ passed away, his name and legacy are immortal and live forever in the hearts of Vietnamese people as well as the people of the world.
"The legacy Uncle Hồ left is his great thoughts, which is forever timely, as well as a lifestyle that all people can look up to."
Delegates to the ceremony visited a photo and book exhibition on the late President and the Ho Chi Minh relic site at the Presidential Palace in Hanoi.
On the same day, an international seminar on Ho Chi Minh's legacy with humankind took place in both virtual and in-person forms.
Long Pham / Vietnamtimes