Vietnam commits to joint actions in addressing bomb, mine consequences
Vietnam commits to joining actions in addressing consequences of bombs and mines left over from the war, according to Maj. Gen. Tran Trung Hoa, Director General of the Vietnam National Mine Action Centre (VNMAC).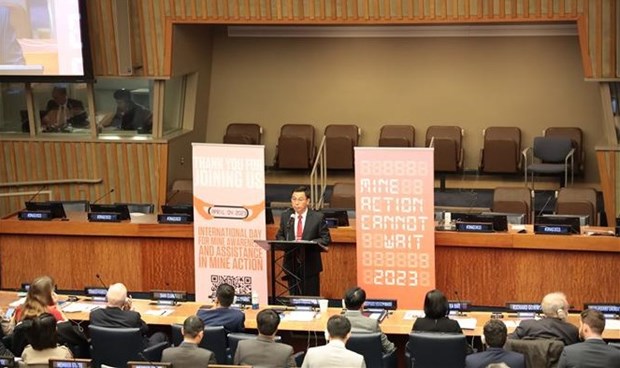 Maj. Gen. Tran Trung Hoa, Director General of the Vietnam National Mine Action Centre, speaks at the New York session (Photo: VNA)
Addressing a New York debate session within the framework of the Mine Action Week held by the United Nations on the occasion of the International Day for Mine Awareness and Assistance in Mine Action on April 4, Hoa said that Vietnam is among the countries most affected by unexploded ordnance (UXO).

Today, unexploded bombs and mines are hidden underground in almost all provinces and cities, with around 5.6 million hectares of  land contaminated, equivalent to 17.71% of the country's natural land area.

Since 1975, more than 40,000 Vietnamese have been killed and 60,000 injured due to landmines left over from the war, he stressed.
 
An overview of the session (Photo: VNA)
With joint efforts of the Vietnamese government and people, and the support of the international community, over the past 50 years, since the Paris Agreement on Ending the War and Restoring Peace in Vietnam was signed on January 27, 1973, Vietnam has cleared nearly 2.5 million hectares of contaminated land to serve resettlement, ensure safety for people, and build economic works.

Many projects on the settlement of UXO consequences funded by foreign countries like the US, Japan, the Republic of Korea, the UK, Norway, Germany and Australia, as well as UN bodies and foreign non-governmental organisations have been carried out successfully in Vietnam, Hoa stated.

In the coming time, Vietnam pledges to continue improving the system of legal documents in overcoming the consequences of bombs and mines, especially in building an ordinance on overcoming UXO consequences, participating in the development of international standards and perfecting national standards and regulations in line with international standards, and perfecting a national database system to speed up the settlement of UXO consequences.

Vietnam continues to carry out surveys and demining activities, step up disseminations to raise people's awareness of accident prevention and provide support for UXO victims, he added.

While in New York, the VNMAC Director General is scheduled to meet UN Under-Secretary-General and High Representative for Disarmament Affairs Izumi Nakamitsu and Director of the UN Mine Action Service (UNMAS) Ilene Cohn to discuss cooperation activities to overcome UXO consequences in Vietnam in the coming time./.
Q.Hoa t.h / TTXVN