Russian scholars highlights 1982 UNCLOS's strategic value in resolving East Sea issue
Russian scholars highlighted the strategic value of the 1982 United Nations Convention on the Law of the Sea (UNCLOS) in settling the East Sea issue while attending a scientific workshop held at the Institute of Oriental Studies (IOS) under the Russian Academy of Sciences (RAS) on January 19.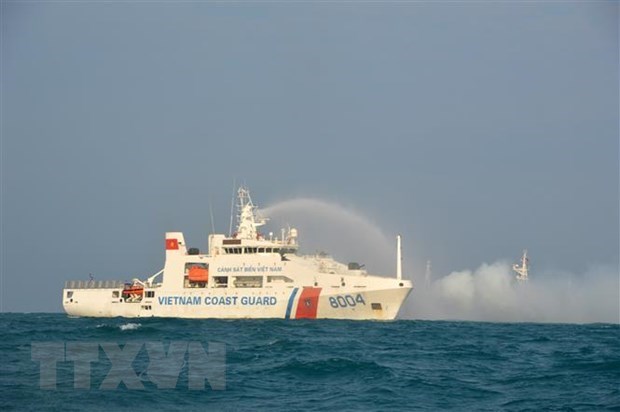 A ship of the Vietnam Coast Guard - Illustrative image (Photo: VNA)
The event gathered many experts and scholars who have studied the region and the East Sea from research centres of the RAS.

In his opening remarks, IOS Vice Director Valentin Tsunlievich Golovachev said in the context of the division and fragmentation of global international relations, and the changing space of common existence on land and at sea, the seminar offered a venue for experts to discuss and make useful recommendations to resolve global hotspots by peaceful measures.

Participants agreed that the 1982 UNCLOS is an important strategic document in the process of seeking peaceful solutions to the East Sea issue.

They also spoke highly of the effectiveness of the Declaration on the Conduct of Parties in the East Sea (DOC) and the need to sign a Code of Conduct in the East Sea (COC).

Talking to the Vietnam News Agency's resident correspondent in Moscow, Dmitry Mosyakov, Director of the IOS's Centre for Southeast Asia, Australia and Oceania, said through the event, which was held on the 40th anniversary of the adoption of UNCLOS, scholars would draw on experiences in applying a legal document to settle international disputes.

Mosyakov highly valued Vietnam's constructive approach when repeatedly asserting that the most complex territorial disputes can only be resolved on the basis of international law and internationally recognised documents.

For his part, Pavel Gudev, Leading Research Fellow at the Centre for North American Studies of the RAS, stressed that from a legal perspective, the UNCLOS is an important document and is the basis for finding solutions to the East Sea issue.

However, it still requires the desire and determination of all involved parties, and continuous negotiation efforts to step by step reach a consensus, he noted./.
Q.Hoa t.h / VNA