Vietnam Festival Fukuoka 2019 connects two cultures
Vietnam Festival Fukuoka 2019 taking place in 2 days May 25 -26 has left many beautiful impressions in the hearts of international tourists and local people.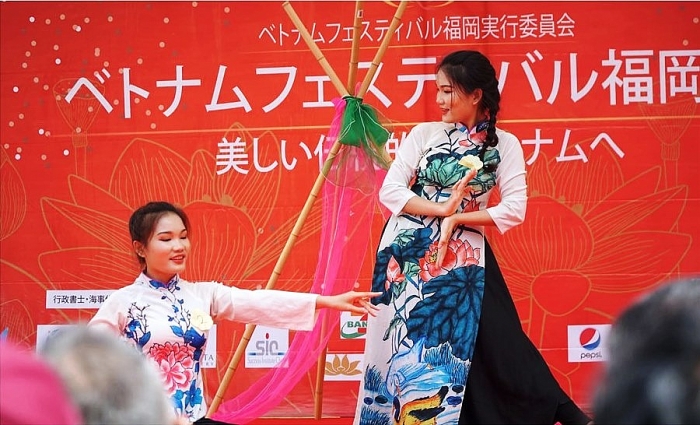 Vietnam Festival Fukuoka is an annual event held in Japan. This year is the 12th edition of this festival on the occasion of the 46th anniversary of establishing diplomatic relations between Vietnam and Japan.
At the festival, visitors had chance to experience Vietnamese culture, try delicious Vietnamese dishes as well as Vietnamese snacks and drinks such as Hanoi Beer, and browse for Vietnamese accessories like Vietnamese conical hat. Watch traditional Vietnamese performances, join in traditional games.
The festival was organized by the young Vietnamese who are studying and working in Fukuoka, with the support of the government and the cooperation of the two countries' businesses.
The festival was a great success, deeply impressed with thousands of international students and local people, thereby helping people understand Vietnam better, contributing to strengthening exchanges between the two countries' people.
Miss Ao dai contest
Vietnamese folk game
Trying to make spring rolls
Fukuoka is the economic and scientific center of southwestern Japan, covering an area of ​​about 5,000 square kilometers and a population of 5,101 million. In the past 10 years, the Government of Vietnam has set up a representative office in Fukuoka City, which has created favorable conditions for the support of tourism as well as learning and working of Vietnamese people. Fukuoka has a convenient traffic flow, relatively cheap living costs, with lots of amusement parks and traditional festivals in the region, more specifically, there are more jobs for students.
Moreover, since 2009, Vietnam Airlines has operated a direct flight from Hanoi / Ho Chi Minh City to Fukuoka, with affordable fares, making this place gradually becoming an attractive new tourist destination of Vietnamese people.
VNF