Vietnamese to become official linguistic subject in two Italian universities
The Vietnamese language will be taught at two universities in Italy - University of Naples "L'Orientale" and Ca' Foscari University of Venice from next year, according to Pietro P. Masina, Professor of Asian History at University of Naples "L'Orientale" and Editor-in-Chief of the European Journal of East Asian Studies.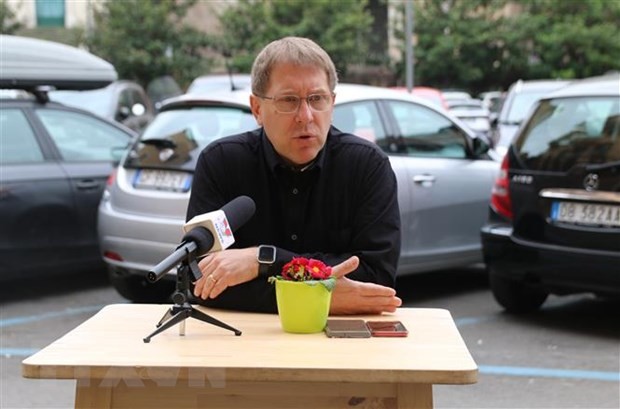 Talking with the Vietnam News Agency's resident correspondent on the occasion when Vietnam and Italy are celebrating the 50th anniversary of the establishment of their diplomatic relations, the Professor said that the University of Naples "L'Orientale" will make Vietnamese an official linguistic subject, through which students can conduct in-depth researches on Vietnam by studying Vietnamese for five years, parallel to a curriculum in humanities or political science and international relations. 
Up to now, even in the pilot training courses, the Vietnamese language has received great attention from students, he said, adding that the university also organises community events to introduce Vietnamese culture and civilization in collaboration with the Honorary Consulate of Vietnam in Naples.
For many years, the university has participated in research projects and educational activities with Vietnam. It has a close cooperation relationship with the Vietnam Academy of Social Sciences (VASS) and universities. 
In recent years, the university has increased its research on Southeast Asia in various fields of expertise.
Talking about the two countries' relationship, Masina affirmed that the friendship between the two peoples has deep roots. 
During the war years, many Italian groups and associations actively supported Vietnam's national liberation struggle by sending aid and publicly showing solidarity. Diplomatic initiatives were launched to end the war, including the participation of politicians from different parties such as the Communist Party and the Christian Democrats.
Over the past 50 years, the bilateral relationship has grown and been deepened, especially in recent decades. The two countries' economic exchange has increased markedly and scientific and cultural cooperation has also been expanded. 
He said Vietnam has become an attractive destination for Italian tourists and many Italian universities are promoting cooperation with Vietnamese partners.
"The cooperation between Italy and Vietnam is expected to develop further," he said.
In the economic field, the EU-Vietnam Free Trade Agreement (EVFTA) will facilitate trade and investment activities. The Vietnamese market has become increasingly attractive to the Italian business community as its domestic purchasing power has increased, he said.
The two countries have also actively participated in international forums with priority given to promoting multilateralism and dialogue for international peace and stability, the Professor added./.
Q.Hoa t.h / VNA