Australian NGOs Accompany Vietnam on the Path of Development
During the 50-year cooperation journey since the establishment of Vietnam – Australia diplomatic relations, Australian NGOs have provided numerous aid projects spanning the economy, community health care, education, etc. These works have contributed to poverty reduction, socio-economic development, promotion of sustainable development in Vietnam and the friendship and cooperative relationship between the two peoples.
Giving the "Fishing Rods"
Da Bac is a mountainous rural district in Hoa Binh province. The majority of the population, with 72% being ethnic minorities, depends on agriculture. It is estimated that 43% of the population living in poverty.
However, since 2014, the community tourism project of the Australian NGO called Action on Poverty (AOP) has helped local ethnic minorities develop long-term livelihoods based on natural and cultural resources and local uniqueness.
According to AOP, since 2015, Da Bac has welcomed more than 20,000 visitors with more than 7,000 international visitors. Community tourism has brought in a profit of about VND 7.5 billion and directly supports more than 6,000 local people. Each tourist village here has established a community fund. A part of the profits from tourism is contributed to the fund to upgrade village infrastructure, ensuring that everyone in the community benefits from this activity.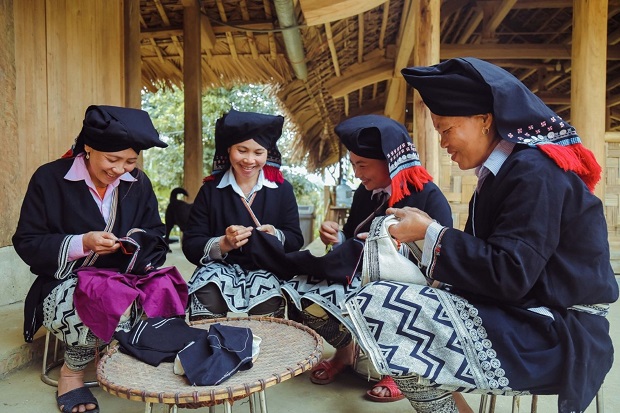 Brocade group of Sung in Da Bac CBT. This model of community tourism is supported by AOP. (Photo: Thoi Dai)
In 2017, a social enterprise, called Da Bac CBT, was established in Da Bac. In 2019, Da Bia village in Da Bac CBT won the ASEAN award in the category of typical tourism products in the region.
This livelihood model not only protects the environment and preserves local cultural values, but also enhances the status of local women with their participation in managing tourism activities. By 2021, AOP has replicated this community-based tourism model in Vietnam and deployed in 6 districts of 4 northern mountainous provinces including Hoa Binh, Phu Tho, Dien Bien, and Son La.
Since its establishment in Vietnam in 1995, ChildFund Australia has brought numerous effective models, and new approaches and created sustainable change in many localities. The organization has provided many construction works such as kindergartens, clean water supply, and sanitation systems, medical facilities, etc. It also sponsors meaningful activities to build community capacity and knowledge.
ChildFund Australia conducts projects in the northern mountainous provinces of Vietnam including Bac Kan, Cao Bang, and Hoa Binh, where the majority of people belong to ethnic minority groups. ChildFund Australia focuses on children's rights and child protection, education, health, and wellbeing.
The organization also prioritizes building youth self-adaptation by providing opportunities for children and young people to participate in sports, life skills training, and support their participation in the decision-making process in the locality.
Bringing Light to the Poor
During more than 30 years in Vietnam, the Fred Hollows Foundation (FHF) has supported Vietnam to develop a comprehensive visual healthcare model and enhance visual healthcare services in 20 provinces. The Foundation has trained ophthalmologists, provided critical equipment, developed infrastructure, and assisted in performing more than 102,000 cataract surgeries.
In 1992, when the late Australian Professor Fred Hollows - a globally renowned ophthalmologist, humanitarian, and healthcare activist- first visited Vietnam, only 50 cataract surgeries were performed nationwide each year by two Vietnamese doctors. He recognized the urgent need to bring modern surgical methods into Vietnam.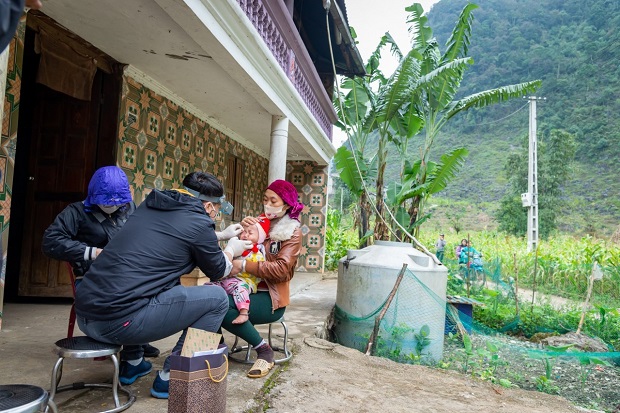 A baby is examined for visual healthcare in Ha Giang province, Vietnam. (Photo: Thoi Dai)
Later that year, just a few months before his death, Fred Hollows returned to Vietnam with a team of ophthalmologists, supported by an Australian aid program to increase the number of visual health care workers in Vietnam. More than 300 Vietnamese surgeons were trained in modern cataract surgery techniques the following year.
As of 2019, about 250,000 cataract surgeries are performed each year in Vietnam by more than 1,000 surgeons. This is a direct result of Professor Fred Hollows' vision and commitment to equal visual health care for all.
Gratitude from Vietnam
AOP, FHF, and ChildFund are three of many Australian NGOs operating in Vietnam. Through aid projects focusing on issues directly related to social security, supporting the poor, the disadvantaged in society, ethnic minorities, spread across economic fields, community health care, education, etc., Australian NGOs actively contribute to Vietnam's process of poverty reduction, sustainable development, and international integration. At the same time, they also promote friendship and cooperation between the people of Vietnam - Australia.
Vietnam has repeatedly honored foreign non-governmental organizations, including those from Australia, to recognize the great contributions of international friends on the journey to bring a better and brighter future for disadvantaged people as well as striving for the sustainable development of Vietnam.
On December 22, 2022, a ceremony was organized in Hanoi to honor foreign non-governmental organizations that have made great contributions to Vietnam's development. At the ceremony, Ambassador Ha Kim Ngoc, Deputy Minister of Foreign Affairs, Chairman of the Committee on Foreign NGOs, said: "Every support of foreign NGOs, whether in the form of material, experience, professional knowledge or human resources, contributes to change the future and bring a better life to the Vietnamese people, especially those in difficult circumstances.
Foreign non-governmental organizations are also great messengers to bring the image of the country and Vietnamese people to the world and bring the world to Vietnam, contributing to strengthening and cultivating cooperation, friendship, mutual understanding, attachment, and trust between the people of Vietnam and other countries".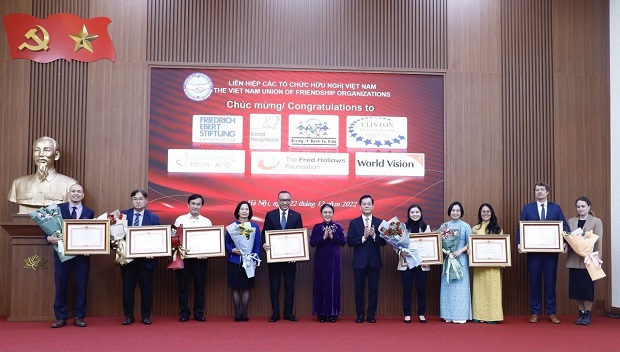 In 2022, seven foreign NGOs in Vietnam, including the Fred Hollow Foundation (FHF/Australia) were awarded the Prime Minister's Certificate of Merit for making many contributions to Vietnam's socio-economic development. (Photo: Thoi Dai)
Also at this ceremony, FHF received a Certificate of Merit from the Prime Minister for its positive contributions in the field of blindness prevention, Vietnamese people's health care and protection.
AOP was awarded the Certificate of Merit from the Presidium of the Vietnam Union of Friendship Organizations for its great contributions to Vietnam's sustainable development in the period of 2020-2022.
Promoting Vietnam-Australia Friendship through Non-governmental Channels
In June 2022, at a meeting with the senior leaders of AOP, Phan Anh Son, Vice President and General Secretary of the Vietnam Union of Friendship Organizations, Vice Chairman of the Working Committee on Foreign NGOs said that AOP and PACCOM will coordinate to carry out seminars with the participation of the Australian Ambassador to Vietnam, Australian NGOs in Vietnam and relevant agencies towards promoting friendship between Vietnam and Australia through non-governmental channels.
Long Phạm / Vietnamtimes