Japan Grants over USD 1.3 Million for Nine Projects in Vietnam
The signing ceremony of grassroots grant projects for the Vietnamese people takes place at the Japanese Embassy in Hanoi.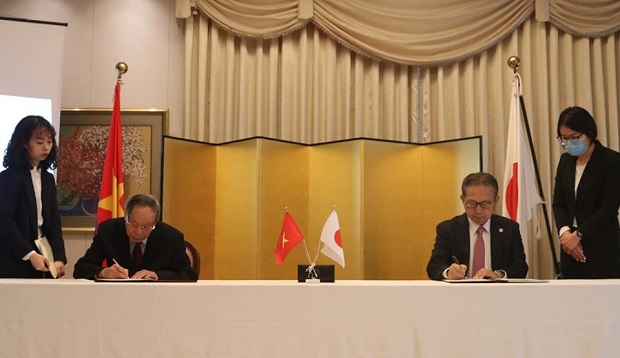 At the signing ceremony. Photo: VNA
The Japanese Government on March 10 announced a grant of USD 1.38 million as non-refundable aid for nine projects in Vietnam, VNA reported Friday.
The projects funded this time are related to many fields, such as health, education, transport, environment, and are implemented in many different provinces and cities.
Speaking at the signing ceremony in Hanoi, Japanese Ambassador to Vietnam Yamada Takio said these projects involve a range of fields, including health care, education, transport and environment, and will be carried out in a variety of communities across the country.
They comprise a project on cluster bomb disposal in central Quang Binh province and a project to upgrade rehabilitation and vocational training equipment for Thai Binh province's Association for Agent Orange (AO)/dioxin Victims.
In which the "Project for improvement of rehabilitation and vocational training equipment for Thai Binh Association for Victims of AO/Dioxin", worths nearly VND 2 billion. This is the third project that the Japanese government has given aid through Vietnam Association for Victims of AO/Dioxin to help AO victims to improve their health, and vocational training to create jobs for victims with disabilities who are able to work, to have income and integrate into the community.
Projects on building schools, bridges, irrigation works and clean water supply stations in other provinces are also included in the package.
According to the ambassador, the scale of each project of non-refundable aid at the grassroots level is not large, but the projects are designed to bring key benefits to the maximum amount of people in these communities.
A total of 724 Japanese-funded projects have been implemented since 1992 with a total amount of up to USD 64.5 million, he said.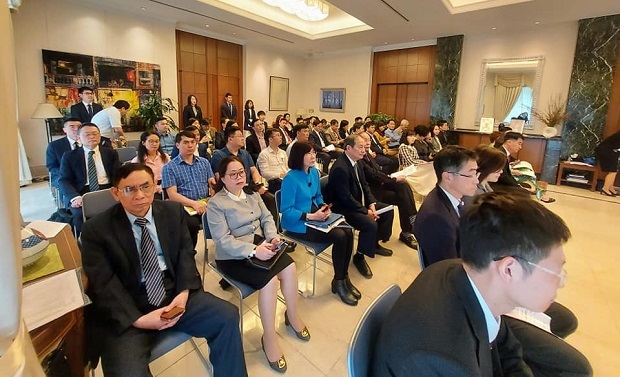 Delegates at the ceremony. Photo: VNA
For his part, Senior Lieutenant General Nguyen Van Rinh, Chairman of the Vietnam Association of Agent Orange/dioxin Victims (VAVA), thanked the Japanese Government for the assistance, saying it has brought practical benefits to many AO/dioxin victims and their descendants in recent years, he noted.
Previous, a ceremony took place at the Japanese Consulate General in Ho Chi Minh City on March 7 to sign a contract on the funding of three projects in Vietnam at a total value of USD 252,528.
The assistance is part of the Japanese Government's Grant Assistance for Grassroots Human Security Projects (GGP) Programme.
The projects are on providing equipment to support children with hearing impairments at the centre for inclusive education development of Ca Mau province, providing three classrooms and toilets at the primary school of Ward 8/1 in Section C, Ward 8 of Ca Mau city, and supplying echocardiogram machines to Nhan dan Gia Dinh Hospital in HCM City.
The GGP has been implemented since 1989 to meet the diverse needs of developing countries. From 1995 to early 2022, Japan provided assistance to 216 projects in 26 southern provinces and cities, with a total value of USD 17.4 million to meet fundamental requirements of the people such as education, health care, agriculture, and rural infrastructure building.
Long Phạm / Vietnamtimes