USAID to Launch Many Programmes in Support of Vietnamese
US Agency for International Development (USAID) Administrator Samantha Power has affirmed that the agency will implement many programmes to support Vietnamese people.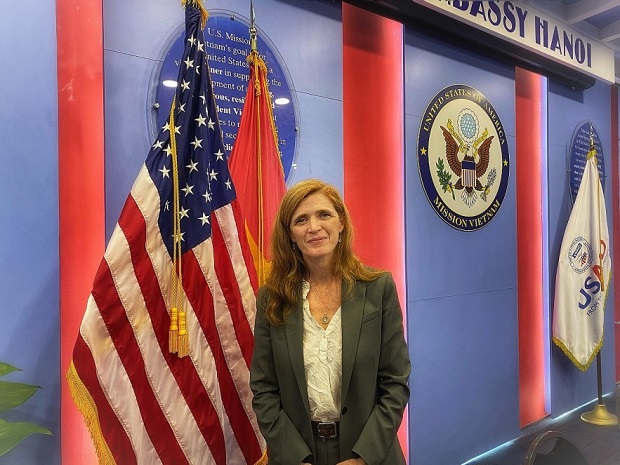 USAID Administrator Samantha Power
Speaking at a press conference in Hanoi on March 10, Power elaborated that USAID will sign an agreement with the Ministry of Agriculture and Rural Development to help residents in the Mekong Delta city of Can Tho with $5 million in climate change adaptation and livelihood development.
The agency is working with the US Congress to provide $73 million for the next phase of the project to design, build, and operate a treatment facility that will clean contaminated soil and sediment at Bien Hoa, she continued.
USAID looks forward to promoting cooperation with Vietnam in improving the health care system for people living with HIV/AIDs, and addressing the complex infectious disease threats, Power said.
Cooperation programmes included planning, financing and implementing solutions to overcome public health problems to ensure safety for the Vietnamese people in the face of threats of dangerous infectious diseases, the Administrator added.
If jobs are lost because of the transition to green energy, USAID and others are working to ensure a just transition, she told the press.
On March 6, Power arrived in Vietnam to strengthen the US-Vietnam partnership by focusing on shared priorities, including supporting a strong, prosperous, resilient, and independent Vietnam, USAID said.
On March 7, she began her day at Bien Hoa Air Base where the US is working to address a painful wartime legacy. Together with the Vietnamese Government, USAID remediated contaminated soil at the largest remaining dioxin hotspot in the country, a legacy of Agent Orange.
Power then joined students from Fulbright University Vietnam (FUV), the nation's first independent, nonprofit university, for a soccer scrimmage.
She was received by Prime Minister Pham Minh Chinh on March 10, who suggested USAID continue strengthening its support for Vietnam to overcome war consequences, especially in decontaminating Agent Orange/dioxin, bombs and mines; step up cooperation in climate change, healthcare, education, high-quality human resource development, and help Fulbright University Vietnam become a regional training centre; and promote green and digital transformation, VietnamPlus reported.
The PM also proposed USAID prioritise its support to mitigate the impacts of climate change in the Mekong Delta which is hardest hit by climate change in Vietnam.
Power, for her part, vowed to continue promoting cooperation with and provide support for Vietnam, especially in areas suggested by the PM.
The same day, she had a meeting with Foreign Minister Bui Thanh Son who said the implementation of these projects in Vietnam vividly demonstrated the increasing effectiveness and development of the Vietnam-US comprehensive partnership on the basis of mutual respect for each other's independence, sovereignty, territorial integrity and political institutions for the sake of their people, contributing to peace, stability, cooperation and development in the region and the world./.
Long Phạm / Theo Vietnamtimes