Foreign Tourists Clean Up Trash After the Storm in Hoi An
A group of foreign tourists rushes to help the local Vietnamese people clean up trash after the storm swept through Hoi An.
Among the foreign tourists wading in Hoi An, not everyone is doing it just for fun. A group of foreign tourists is busy cleaning up trash and clearing the flood that is flowing through a bridge across the Hoai River (a tributary flowing in the heart of Hoi An ancient town).
After Typhoon Noru made landfall directly in Hoi An city, trees fell and many places were devastated. The garbage from all over the floodwater overflowed into the city center and got stuck on the bridge walls.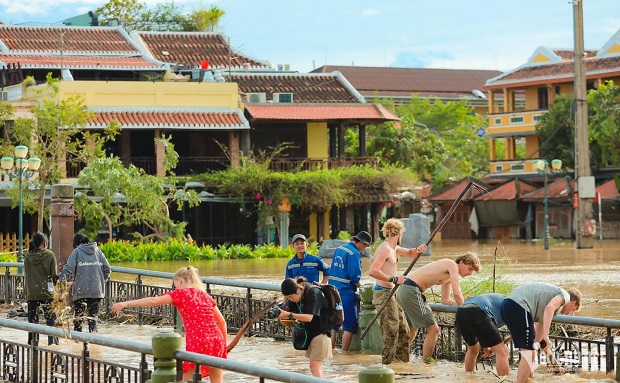 Photo: Vietnamnet
Faced with this scene, a group of foreign tourists were not afraid of the strong flood water, they quickly worked together to clean up the garbage and purify the flowing water in the heart of the old town.
Max Devlieger (from Belgium) shared: "We went to the North, then we planned to visit the Central and the South, but got hit by a storm. Vietnam is a beautiful country, the people are very kind, so we want to contribute a little effort to make the city beautiful again. This is the first time we've been hit by such a big storm. I live in Belgium, where we don't have hurricanes or anything like that. We want to help the people of Vietnam weather this storm."
Max Devlieger's group has more than 5 members all from Belgium. Their garbage removal activity was not planned in advance but stemmed from the fact that the group was on a journey to explore the Central region but got stuck in Hoi An because of Typhoon Noru.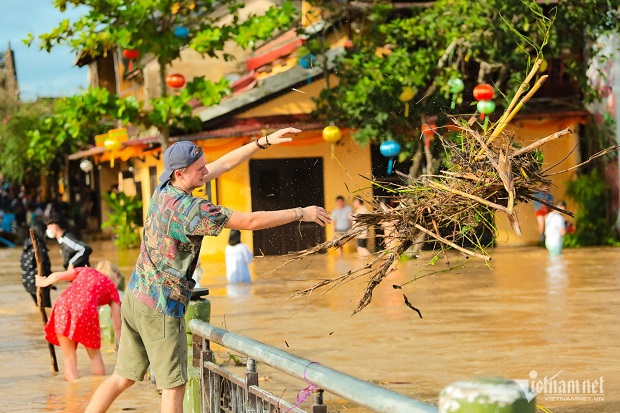 Photo: Vietnamnet
Thijes Renso, another member, excitedly said: "We want to help a little bit to clean up so that the city can be greener. This storm is probably the biggest storm we have ever known. I hope no one is injured or killed."
Currently, the flood water level in Hoi An is still rising, it is expected that in the next few days, this place will continue to be flooded. Many tourists are also not afraid to experience the feeling of sailing to visit Hoi An during the flood season.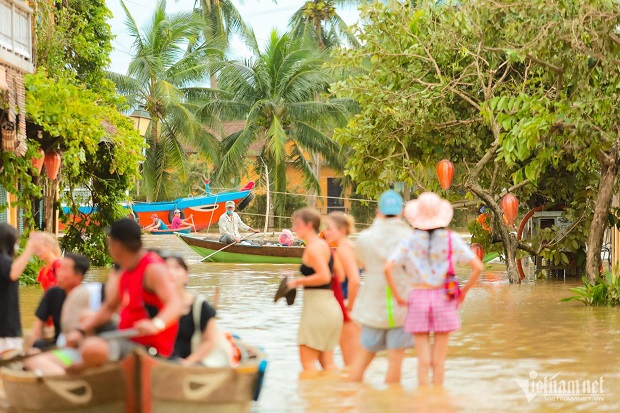 Photo: Vietnamnet
Long Pham / Thoidai