Mami Melba: Revolutionary for Cuba, Friend for Vietnam
Melba Hernandez Rodriguez del Rey (28/7/1921- 9/3/2014), a Cuban heroine who dedicated her entire life to the Cuban Revolution and national liberation movements across the globe, was also a dear friend of the Vietnamese people.
A loyal revolutionary
Melba Hernandez was born in Las Villas, now Villa Clara, a province in central Cuba, in a patriotic family with a rich history of fighting against Spanish colonizers since the 19th century. Melba graduated from the Law Department of the La Habana University at 22 years old, then went on to complete a bachelor's degree in social science. She soon joined the movement led by Fidel Castro against the Fulgencio Batista dictatorial government. Together with Haydee Santamaria, Melba Hernandez was involved in the Moncada and Carlos Manuel de Cespedes military camp assault on July 26, 1953, with Fidel's groups. The attack failed, and those who survived, including Fidel and Melba, were captured, tortured and sentenced to jail.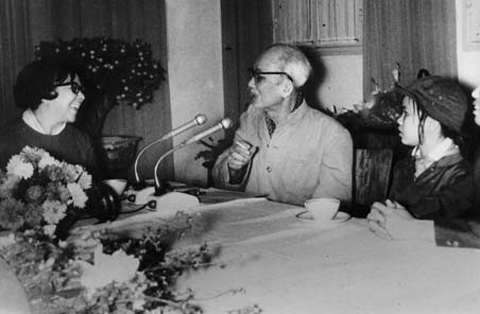 Melba Hernandez (left) met President Ho Chi Minh in Hanoi. Photo: The Granma.
When she was freed in 1954, Melba secretly continued to join revolutionary movements. She played a major role in compiling, printing and distributing the articles that Fidel sent from jail. These were Fidel's arguments to defend himself in front of the court, which later became the famous work "La historia me absolverá" (history will absolve me). Fidel founded the 26th of July Movement, considered one of the most important organizations in the Cuba Revolution when he got out of jail in 1955. She became an integral part of the movement.
With little money she had, Melba headed to Mexico and rejoined with the revolutionaries led by Fidel, who took refuge here. She actively joined the efforts to prepare for the departure of the yacht Granma that carried 82 rebels to Cuba's shores on December 2, 1956, launching the Cuban Revolution. Melba also returned to the country and joined the band that launch the uprising in Cuba's eastern Sierra Maestra, until the revolution succeeded on January 1, 1959.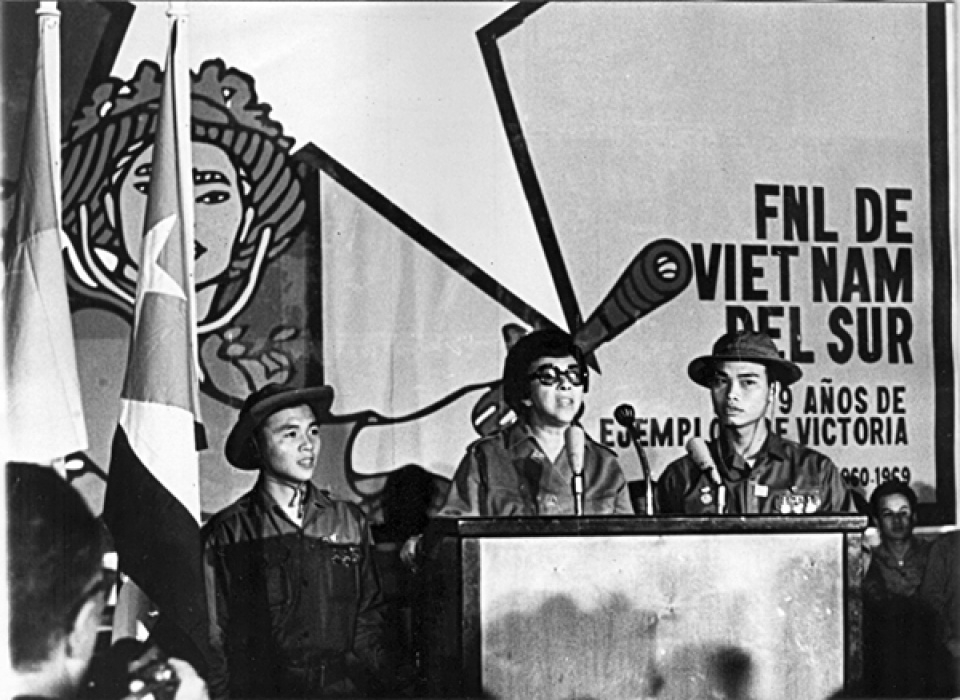 Melba Hernandez spoke in a solidarity meeting of the National Liberation Front of South Vietnam. Photo: The Granma
Melba had assumed many important positions under Fidel's government, including president of the Cuban Committee in Solidarity with South Vietnam established in 1963. The committee later became the Cuban Committee in Solidarity with Vietnam, Laos and Cambodia, the predecessor of current Cuba – Vietnam Friendship Association. She was a presidium member of the World Peace Council, secretary-general of Organization in Solidarity with the People of Asia, Africa, and Latin America, Ambassador of Cuba to Vietnam and Cambodia, director of the Communist Party's Center for Asian Studios, and deputy in Cuba's National Assembly a member of Central Committee of the Communist Party until her death at 93.
Our Cuban mother
When she was alive, Melba actively participated in the movements to support Vietnam in Cuba and across the world and protest the unjust Vietnam War. She admired Vietnam's courageous fight against colonizers and considered Vietnam an example to peace-loving and independent peoples around the globe.
To those who met and knew her, Melba was a symbol of the deep, loyal and wholehearted sentiments that the Cuban people have given to Vietnam. Melba, the heroine of the Cuban Revolution, left a lasting impression on me for her nobleness, friendliness and simpleness. Melba welcomed her guests like a mother welcoming her children home.
" "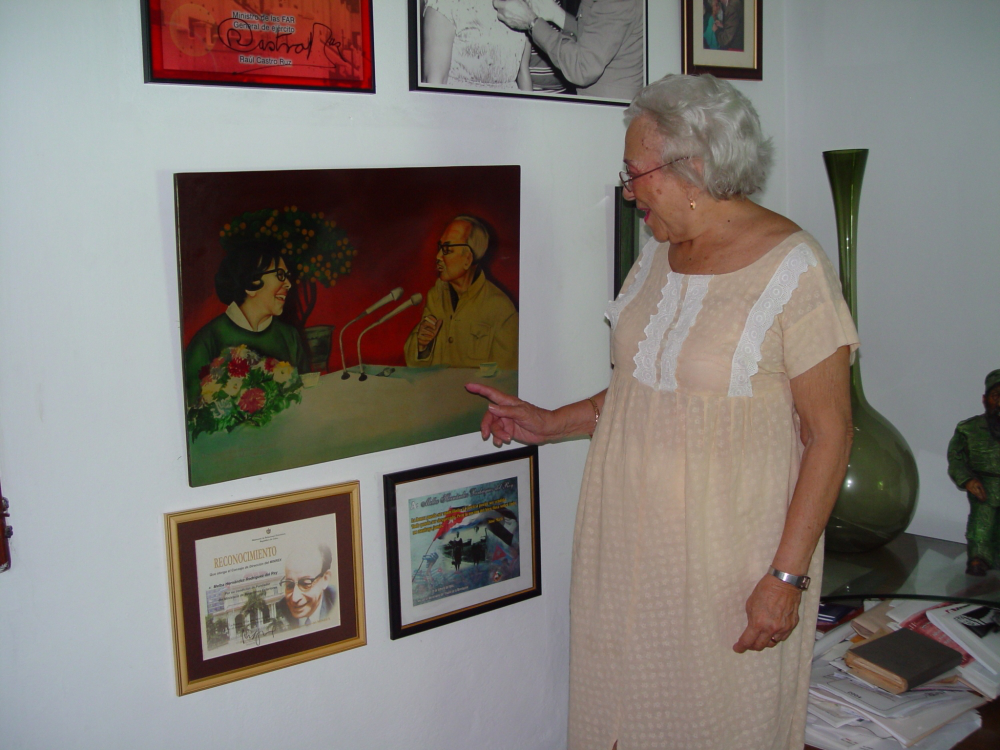 Melba and her collections of items about Vietnam. Photo: Le Duy Truyen
The Vietnamese officials and student representatives in Cuba often came to Mami Melba's house to congratulate her. One time, we asked her if she would like to return to Vietnam. sadness edged on her face as she heard our question. Then she said, "can you please persuade Fidel so I can visit Vietnam?"
We felt for her. Returning to Vietnam was one of her last wishes but it could not be realized. We were regretful for reminding her of what she could not have. Why did Fidel not grant her this wish? But it was true that at the age of 80, Melba no longer had enough strength to cross the globe to return to a country she held dear in her heart, where she had met President Ho Chi Minh, Prime Minister Pham Van Dong and General Vo Nguyen Giap.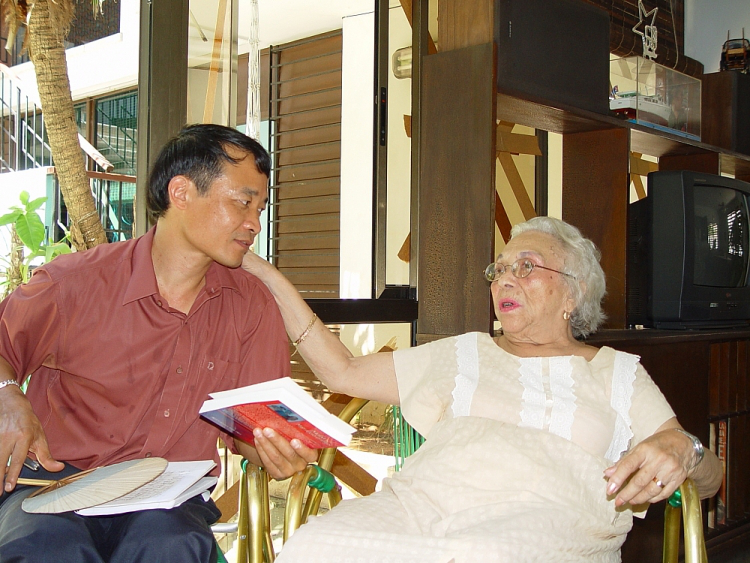 Le Duy Truyen interviewed mami Melba. Photo: Le Duy Truyen
As we commemorate 68 years of the Moncada Barrack attack and the 100th anniversary of Mami Melba's birth date, I cannot help but recall my visit to her house in La Habana in August 2005, just before I completed my mission in Cuba. She slowly took me around her house. She stood in her workroom, where she kept many items, paintings and photos about Vietnam, for a long time. Then she told me the stories behind each photo on the wall as she reminisced about her youth.
My interview with her soon became an intimate, warm discussion between family members. It was my last interview with Mami Melba.
By: Le Duy Truyen