Newly appointed Singaporean Ambassador to pay a courtesy visit to the VUFO President
On Tuesday's afternoon, March 30, President of the Vietnam Union of Friendship Organizations (VUFO) Nguyen Phuong Nga met newly appointed Singaporean Ambassador to Vietnam Jaya Ratnam at the VUFO's headquarters in Hanoi in his courtesy visit on the occasion of implementing his newly appointed assignment in Vietnam.
On behalf of the Vietnam Union of Friendship Organizations and all staff members of the VUFO, President Nguyen Phuong Nga warmly welcomed the Singaporean Ambassador to implement his duties in Vietnam. At the same time, the President also expressed her honor that the Ambassador himself paying the first visit to the VUFO for greeting and meeting with her.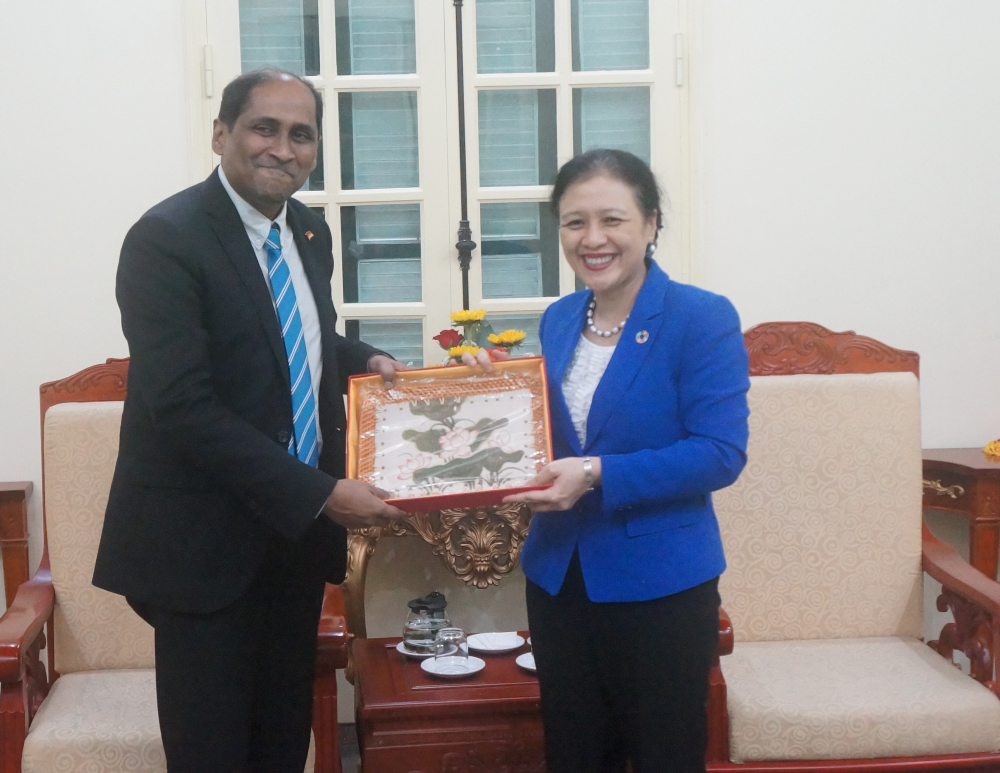 On this occasion, President Nguyen Phuong Nga expressed her happiness to welcome the new Singaporean Ambassador as a very good and close friend to Vietnamese people.
Ambassador Jaya Ratnam also said Singapore valued and appreciated VUFO's role in the bilateral ties. The state relations are very important, and countries' friendship relationship depends on people-to-people relations, so he finds it grateful and important to cooperate with VUFO to promote two countries' people-to-people relations. He emphasizes that he is looking forward to working closely with VUFO to organize some events and build up and add to the momentum for the relationship.
President Nguyen Phuong Nga believes in his position as Ambassador Extraordinary and Plenipotentiary of the Republic of Singapore to Vietnam, Ambassador Jaya Ratnam continues to be a friendship bridge to step up the relations between Vietnam and Singapore as well as two peoples' relations more cultivated, with a new and better development level.
In his talk, the Singaporean Ambassador highly appreciated Vietnam's Covid-19 combat with the country's unique experience.
"Vietnam is a hundred million-people country with the long land and sea borders, what Vietnam has done, I think, how incredible, we have read a lot about Vietnam's extreme success to implement measures and control the Covid-19." said Ambassador Jaya Ratnam.
The Singaporean also praised and highly appreciated Vietnam's unique chairmanship of ASEAN last year during a difficult period to convince ASEAN with its online leading.
On this occasion, President Phuong Nga also introduced and shared the duties and responsibilities of the VUFO and the Vietnam-Singapore Friendship Associations working with the main job of coordinates and as a bridge to connect foreign organizations and people, performing the people-to-people relations' tasks entrusted by the Party, the State and the Central Committee of External Relations of Vietnam.
According to her, to increasingly promote the relationship between Vietnam and Singapore, the Vietnam-Singapore Friendship Associations are set up both in central and local levels, including one central-level Association and 4 local-level ones with the latest planned to be set up in Binh Duong province.
In the first meeting, the Ambassadors also shared many plans and initiatives to work together for promoting the bilateral people-to-people ties moving award and turned into practical cooperative and exchanged activities.
Thoidai