VUFO president joins condolence meeting for Indian journalist, a "great friend of Vietnam"
Nguyen Phuong Nga, President of the Vietnam Union of Friendship Association joined and gave a speech at the meeting, in which she referred to late Indian writer Geetesh Sharma as "an important witness to the history of the relations between Vietnam and India"
A virtual meeting has been held to send condolences for the passing of Indian journalist Geetesh Sharma, leader of the Indo-Vietnam Solidarity Committee, who is credited with widely contributing to the positive relationship between India and Vietnam.
The meeting was held at 6 p.m. May 7 (Hanoi time) by the India-Vietnam Solidarity Committee and the Dialogue Society. The online event was attended by 100 guests, including the Vietnam Ambassador to India Pham Sanh Chau, VUFO President Nguyen Phuong Nga, relevant embassy staff, representatives of the Vietnam-India Friendship Association in Da Nang, as well as writers, authors, poets, scholars and people close to Sharma.
Nguyen Phuong Nga expressed her "profound sadness and heartfelt condolences for the passing away of the great friend of Vietnam, Comrade Geetesh Sharman," who she described as "an important witness to the history of the relations between Vietnam and India".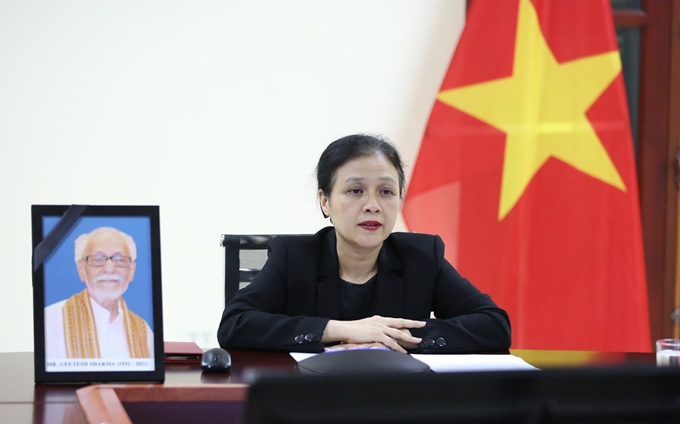 Ms. Nguyen Phuong Nga at the Condolence meeting held for Mr. Geetesh Sharma. (Photo: Hong Anh, VNT)
Nga said that Sharman's legacy and contribution to Vietnam-India relations included his 29 visits to Vietnam, his numerous writings on the history of Vietnam-India relations, his leadership of the Indo-Vietnam Solidarity Committee, and the country's national construction and development. Under Sharman's leadership, over the last five decades, the committee has made invaluable contributions to promote Vietnam-India cooperation
and to support Vietnam's sovereignty claim in the Bien Dong Sea (the South China Sea).
"Comrade Geetash Sharman is no longer with us. But his legacy will live on. We will stand with you and all our Indian friends to continue his cause, to make all our effort to promote friendship and understanding between people all over the world for peace, cooperation, and sustainable development," Nga said.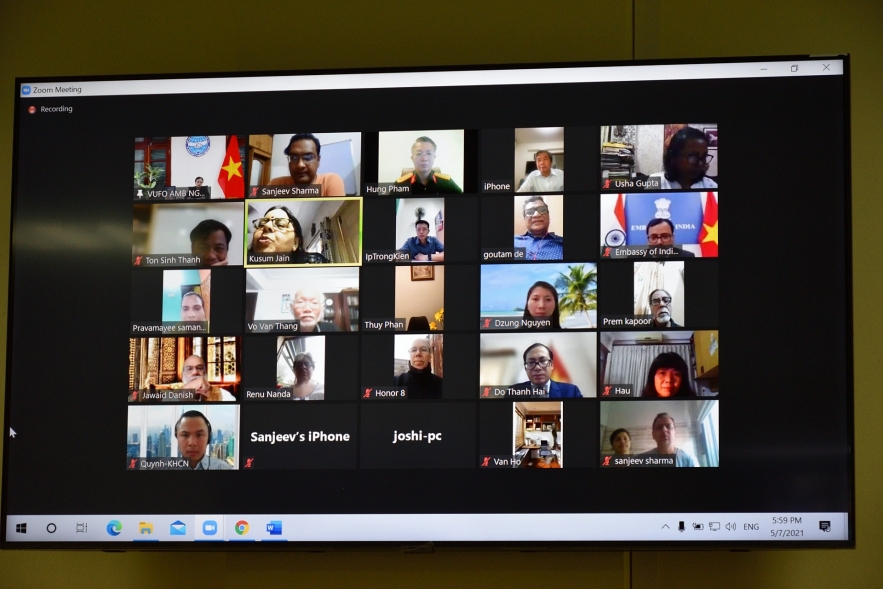 The ceremony welcomed 100 attendees from all over the world who have deep affection for Geetesh Sharma. 

Sharma once serve as the President of the India-Vietnam Solidarity Committee in West Bengal. In 2015, he was granted Vietnam's Order of Friendship for his significant and enduring contributions in fostering solidarity and friendship between the people of the two countries.

Born in 1932, Sharma was a famous Indian journalist and author, having a particularly close bond with Vietnam. He passed away on May 2 after a week of fighting Covid-19. During his life, he published 23 books in different languages, many of which covered Vietnam and the history of the close friendship between the country and India. They include "Vietnam 1982 - 2017: Ruins to Incredible Progress," "Trace of Indian Culture in Vietnam," and "Vietnam Liberation War - Role of Calcutta".
 
Q.Hoa t.h / Thoidai