Venezuelan President hopes for stronger ties with Vietnam
Venezuelan President Nicolás Maduro received outgoing Vietnamese Ambassador Le Viet Duyen on March 13, highlighting the two countries' fraternity and friendship and calling for stronger cooperation to obtain concrete results in the fields of trade and production.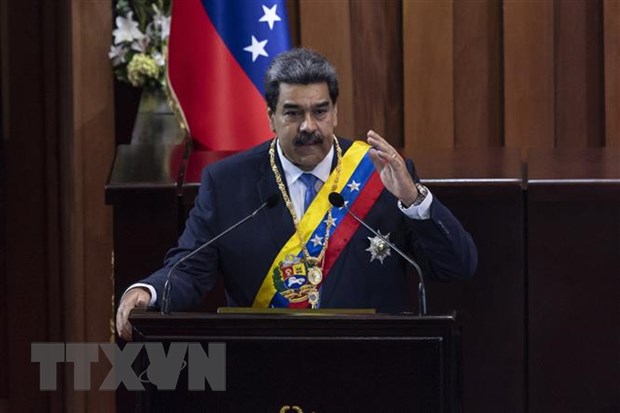 President of Venezuela Nicolás Maduro (Photo: AFP/VNA)
President Maduro bestowed the first-class Order of Francisco de Miranda upon Duyen in recognition of the diplomat's contributions over the past years.

He emphasised the milestones in cooperation development and expansion with Vietnam, expressing his admiration for the Vietnamese people's steadfastness in the fight for national independence and the national reconstruction to help turn the country into one of the fastest-growing nations in Asia nowadays.

The host expressed his delight at the progress, modest but important, in the partnerships with Vietnam in such areas as trade, agriculture, education, and health care, as well as the two countries' close coordination in all issues, from international politics to geopolitics and diplomacy.

He called on both countries to make utmost efforts to ensure bilateral activities generate concrete results and promote trade and agricultural links.

Venezuela is now well-position to receive knowledge and technological cooperation to step up food production, Maduro noted, asking for strengthening ties between Petróleos de Venezuela, S.A., the national oil and gas company of his country, and the Vietnam Oil and Gas Group (Petrovietnam) to reach major agreements.

For his part, Ambassador Duyen expressed his honour to receive the first-class Order of Francisco de Miranda, a noble decoration the Venezuelan President presents to domestic or foreign individuals with special contributions to the South American country's sciences or development.

He also thanked the Venezuelan people and Government for their sentiment towards Vietnam.

President Maduro voiced his wish to re-visit Vietnam soon to reach large agreements and reinforce bilateral cooperation and friendship./.