In India, many activities are held to honor Uncle Ho.
The Vietnamese Embassy in India organized a series of activities to commemorate the 132nd birthday and honor President Ho Chi Minh in May 2022, promoting people-to-people exchanges between the two countries.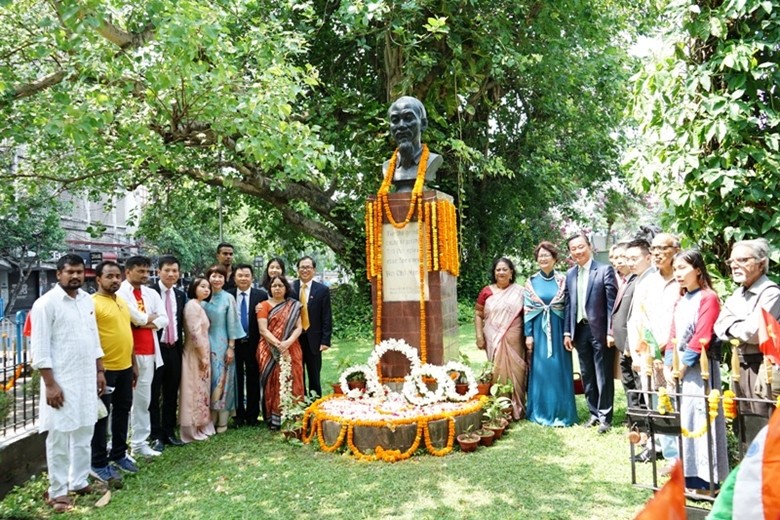 On May 14, The Vietnamese Embassy in India launched the Week to Celebrate Uncle Ho's Birthday and study, follow Ho Chi Minh's ideology, morality, and style with the activity of visiting and offering flowers at the Uncle Ho monument on Jarwarhalal Nehru Boulevard in Kolkata. This is the first Uncle Ho monument abroad, built in 1990 to commemorate his 100th birthday. India is proud to be the first country in the world to erect a bronze statue of Ho Chi Minh to express their deep admiration and love.
Representatives from Vietnam and India laid flowers at Uncle Ho's monument on Jarwarhalal Nehru Boulevard.Photo: Communist Party of Vietnam Newspaper.
Ambassador Pham Sanh Chau, embassy officials, and Indian friends then Street then inaugurated the newly restored and embellished relief on Ho Chi Minh. The West Bengal state government named this road in 1968, at the height of the Vietnamese people's struggle against US imperialists. The people of West Bengal have made this special gesture to show their support for the heroic and patriotic Vietnamese people. The Indo-Vietnamese Solidarity Committee and the Kolkata City Council erected this relief in 1990, also on the occasion of President's Ho Chi Minh 100th birthday.
Ho Chi Minh Street's bas-relief has recently been restored and repaired.Photo: Vietnamese Embassy in India
During the day, the Vietnamese Embassy in India premiered the documentary film "Uncle Ho and India," andcollaborated with the Indo- Vietnam Solidarity Committee (IVSC)to organize a seminar on President Ho Chi Minh and India at Kolkata's National Library of India.
On the same day, the Embassy held a ceremony in Kolkata to present books about Vietnam/Ho Chi Minh to the National Library of India. The National Library of India is one of four academic and research institutions that has designated a formal space for the establishment of the Vietnam Corner, which features books, newspapers, magazines, and documents about Vietnam.
On the afternoon of May 14, Ambassador Pham Sanh Chau met with the Indo-Vietnamese Solidarity Committee, which was comprised of Indian intellectuals and personalities who admired Uncle Ho and Vietnam.
On May 17, Indian researcher S.D. Pradhan published an important editorial in the Times of India in which he defended President Ho Chi Minh's activities and emphasized that military measures, in Uncle Ho's opinion, are to help Vietnam achieve freedom and independence, but the larger goal is peace. Mr. Pradhan's commentary demonstrates that Ho Chi Minh's ideas are epochal and continue to have profound effects on the world.
On May 18, at the newly built Uncle Ho Monument in New Delhi, the Vietnamese Embassy in India held a flowers offering and memorial ceremony for Uncle Ho.
On May 19, Ambassador Pham Sanh Chau attended the Communist Party of India's (CPI) 132nd birthday celebration of President Ho Chi Minh at the Party's headquarters in New Delhi. This is an annual activity organized by CPI on Uncle Ho's birthday.
Many Party leaders, Delhi Party leaders, and party members attended the ceremony. Delegates laid flowers at Uncle Ho's memorial on the Party headquarters grounds, reviewed the history of the Vietnamese Party and people's heroic struggle for liberation and national independence, and expressed their deep affection for President Ho Chi Minh. Then attendants chanted "Vietnam - Ho Chi Minh," "Your name, my name, our name - Vietnam," which used to drew millions of Indians to the streets in support of the Vietnamese people.
"Vietnam is one of India's best friends," CPI International Head Pallab Sengupta said, adding that "no force can change the traditional good relationship between India and Vietnam." Ambassador Pham Sanh Chau thanked the Communist Party of India and the people of India for their warm affection and support for the Communist Party, country, and people of Vietnam, emphasizing that President Ho Chi Minh is a great friend. He expressed his belief that the two countries' and peoples' good friendship and solidarity will be continuously consolidated on the basis of shared values such as national independence, peace, cooperation, and mutual trust.
Many activities in memory of President Ho Chi Minh were also organized on this occasion by communist parties and solidarity and friendship organizations such as the India-Vietnam Solidarity Committee (IVSC) and the All India Peace and Solidarity Organization in a variety of locations.
Thanh Thúy