VUFO President Welcomes Ambassador of Uruguay
President of the Vietnamese Union of Friendship Organizations (VUFO) Nguyen Phuong Nga and Ambassador of Uruguay Raul Pollak Giampietro look forward to collaborate to promote people-to-people exchanges.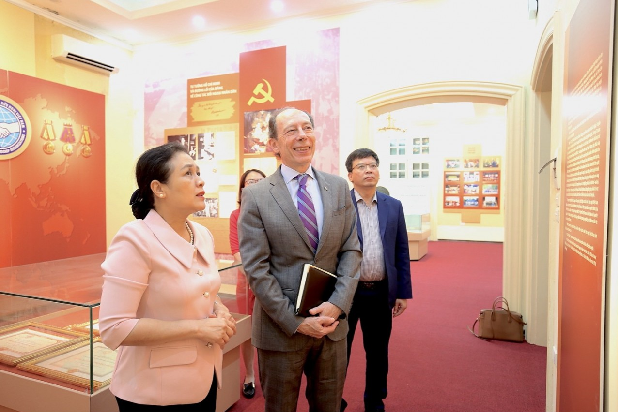 VUFO President Nguyen Phuong Nga and Ambassador visit VUFO traditional room. Photo: VNT/ Zoey Nguyen
On April 26, in Hanoi, VUFO President Nguyen Phuong Nga met with the Ambassador of Uruguay to Vietnam, Raul Pollak Giampietro.
The President welcomed the Ambassador to take up his duties in Vietnam. She believed that he will be a bridge of friendship to bring the relations between Vietnam and Uruguay in general and the people-to-people relations of the two countries in particular to so that the good relationship between the two countries will continue to be cultivated for new and better future development.
In response, Ambassador Raul Pollak Giampietro said he deeply appreciated VUFO's role in people-to-people exchange between Vietnam and Uruguay. He looks forward to working with VUFO to organizing practical events in many fields such as culture, sports, and education.
The two diplomats emphasized the importance of the 30-year milestone of establishing the diplomatic relation between Vietnam and Uruguay (1973-2023).
iampietro said: "I look forward to the cooperation and support of VUFO towards the common goal of enhancing mutual understanding between Vietnamese and Uruguayan people, spreading the good image of Uruguay in Vietnam, and vice versa,"
President Nguyen Phuong Nga agreed with the Ambassador, suggesting that the organization of Uruguayan students volunteer in Vietnam.
During this first meeting, the two sides also shared many plans and initiatives to jointly promote the growing and practical people-to-people exchanges between the two countries.
Vietnam - Uruguay friendship
Vietnam and Uruguay established diplomatic relations on August 11, 1993. Our embassy in Argentina is in charge of Uruguay. On August 16, 2011, the Uruguayan Mobile Ambassador's Delegation to Vietnam opened a diplomatic mission in Vietnam. On February 21, 2012, Ambassador Carlos Irigaray Santana presented the Letter to President Truong Tan Sang.
The bilateral trade has inccreased from US $27 million in 2007 to more than US $100 million in 2019, with the first quarter of 2020 reached US $23.79 million. Vietnam export mainly footwear and clothes, synthetic fibers, handicrafts, dried coconuts, plastic products, natural rubber, tyres, ceramics. The main imported products from Uruguay are beef, leather, wood raw materials, wool, milk, squid, cattle by-products and medicinal herbs.
The two countries have potential for cooperation in the fields of livestock production, agricultural and aquatic processing industry, biotechnology-genetic technology, rice varieties, water purifier production technology, information technology. Uruguay is also interested in importing Vietnamese products such as fish, dried tropical fruits, beer.
Vietnam and Uruguay have signed many framework agreements on trade and investment, most recently the Memorandum of Understanding on cooperation in the field of education (April 2019) and the Memorandum of Understanding on cooperation in the field of culture (April 2019).
Q.Hoa t.h / Thoidai