Laotian Students Celebrate Bunpimay in Vietnam
The Bunpimay Festival celebrating New Year in Lao's culture centers around acts of festive, leisure and entailing activities. The Laotian student communities across Vietnam organize many meaningful event to celebrate Bunpimay with Vietnamese localities.
In Hue city, Thua Thien Hue College of Education in collaboration with Hue University organized the Bunpimay traditional Tet program on the evening of April 8, with many meaningful activities for nearly 340 Lao students
The program was thoughtfully organized with traditional rituals. The opening ceremony is the water splashing ceremony with the desire to dispel the fatigue and sorrows of the old year, and to welcome good luck and happiness for all things in the new year.
After the water splashing ceremony, there is a ceremony to pray for luck by tying the wrist thread, a unique cultural trait in Lao. A large calyx is placed in the center of the stage and colorful threads are attached to the branches of the calyx. Everyone present sat around to pray for good luck, then tied the thread together to wish each other good health, luck and success.
Also at the program, Laos students introduced the history of the New Year day, their traditions, costumes, the Lao ethnic groups through cultural performances.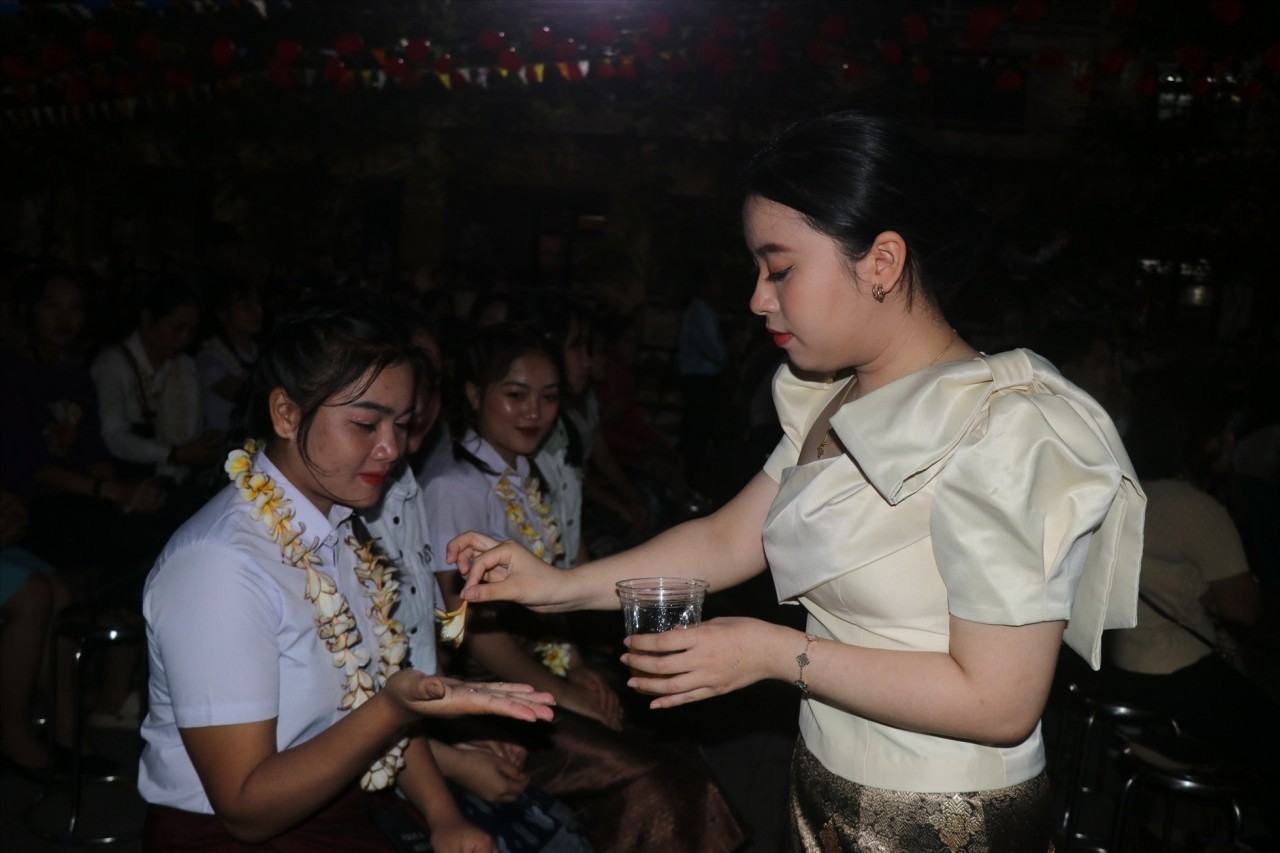 Laotian students in Thua Thien Hue perform a water-splashing ritual for good luck (Photo: Labor Newspaper).
* On the same day, at Northwestern University, Son La Provincial Youth Union also organized cultural, artistic and sports activities to celebrate Bunpimay overseas students studying in the area.
Also, the Provincial Standing Committee of Son La Province has presented meaningful gifts to representatives of Lao PDR. students from 3 universities and colleges on the occasion of Bunpimay, supporting the material and spiritual life of Lao students living in Son La.
In addition, 10 excellent Laotian sudents who actively participate in Youth Union activities and youth movements in the school year 2022-3023 were awarded certificates of merit by Son La Provincial Youth Union.
* On April 7, at the campus of the University of Education - the University of Danang, the Vietnam - Laos Friendship Association in Da Nang City in collaboration with the Consulate General of the Lao PDR in Da Nang held the Bunpimay Tet Festival. This is the largest Bunpimay festival ever held in ​​Da Nang city.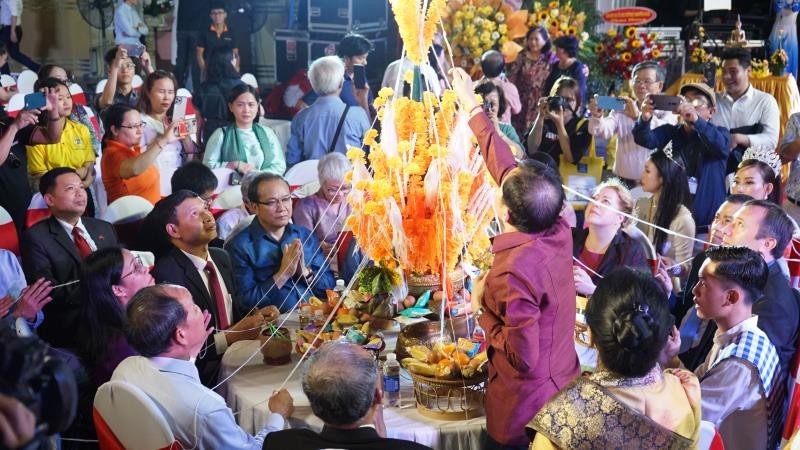 Delegates and students from Vietnam - Lao celebrate Bunpimay together and exchange culture, art, and cuisine (Photo: CAND).
At the festival, Standing Vice Chairman of Da Nang City People's Committee Ho Ky Minh stressed that over the years, the city has focused on cooperation and friendship with Laos localities, especially in the field of education. Since 2002, Da Nang has provided scholarships for more than 850 Lao students to study at undergraduate and postgraduate levels.
Many Lao graduates from University of Danang became key officials in government agencies in their hometowns, an active factor contributing to maintaining and tighten the friendship and solidarity relationship between Da Nang and Lao localities.
Q.Hoa t.h / Vietnamtimes