Overseas Vietnamese Expertise: Strengthening the Homeland from Abroad
The Vietnamese ambassador to France, Dinh Toan Thang, addressed the Association of Vietnamese Scientists and Experts Global (AVSE Global) meeting on March 18 and urged participants to increase resource mobilization and intellectual contributions to the advancement and elevation of Vietnam's position.
At the meeting, AVSE Global members summarized the activities of the past year and proposed projects in the coming year.
The intellectual Vietnamese community that lives and works in France is active in a variety of sectors and is well-organized through groups, but it always works toward the same major objective; devoting resources and expertise to help the Vietnamese homeland grow through targeted projects.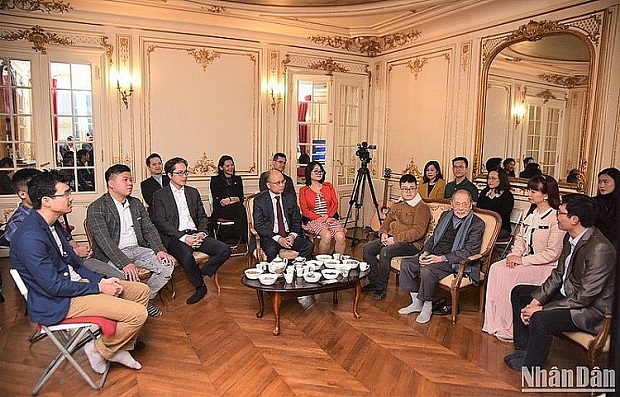 Photo: Nhan Dan
With the same ambition to benefit the nation, AVSE Global has recently linked hundreds of Vietnamese specialists and scientists working in a variety of sectors on a worldwide scale. In Vietnam, AVSE Global has actively assisted numerous ministries, industries, localities, and companies with policy advice. These efforts have included developing socioeconomic development strategies in Yen Bai city (2020), Bac Lieu for the 2020–2025 period, and other areas.
AVSE Global has collaborated with Vietnamese universities and appropriate organizations to hold a series of yearly seminars and policy forums on issues such as digital economy, public policy management, finance-banking, renewable energy, and sustainable construction, among others, to promote Vietnam's development.
With initiatives of enormous scope and importance, AVSE Worldwide has made several contributions in the areas of training, creating top-notch human resources, and in-depth research.
The Vietnam Education Summit (VES) 2020 is the first activity in a series of action plans 2019-2030 for "Future Schools - Future Citizens," with the purpose of redefining the motto and educational goals, upgrading methodologies, and redefining the role of actors in order to achieve positive and permanent changes in Vietnamese education.
In an era of science and technology with numerous breakthroughs, AVSE Global has presented many unique and creative ideas, not only supporting the internal dynamism of the country, but also taking advantage of asking for resources from outside to invest in Vietnam.
The Vietnam Sustainability Forum 2020 (VSF 2020), which was co-organized by AVSE Global and the Academy of Policy and Development (APD) in June 2020 in Hanoi, intends to provide an international exchange platform for global leaders and partners such as policymakers, academia, entrepreneurs, and non-governmental organizations (NGOs).
The ability of the AVSE Global organization to quickly identify domestic needs and take advantage of several resources was highly praised by Ambassador Dinh Toan Thang.
It was decided to launch AVSE Global in France. Both the government and people of the host nation are very appreciative of the Vietnamese community in France. Several Vietnamese intellectuals have established themselves in France and are actively contributing to the country.
* The Vietnam World Organization of Scientists and Experts (AVSE Global), which was founded in 2011, brings together Vietnamese scientists and professionals who have international influence. They are leaders in the fields of strategic consulting strategies programs, senior management training, and policy forums. By bringing together the collective intelligence of Vietnamese intellectuals and intellectuals from around the world who have a strong desire to advance their respective countries, they are able to develop creative solutions for Vietnam's sustainable development.
Long Pham / Vietnamtimes