Vietnam facing huge challenges in accelerating digital transformation: insiders
Digital transformation is an opportunity for Vietnam to become a developed country. However, many challenges remain to ensure a rapid, smart and green digital transformation, experts have said.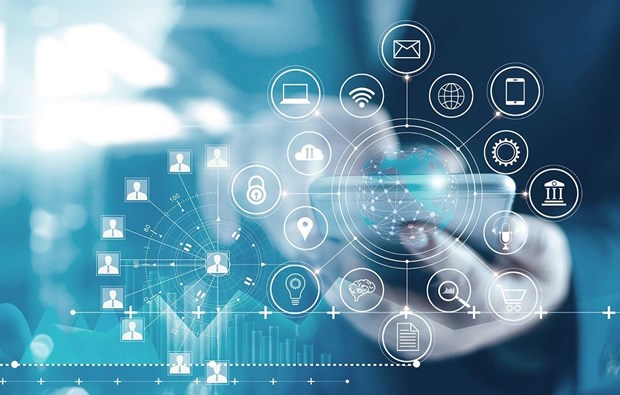 Illustrative imagine
According to the 7th edition of e-Conomy SEA report by Google, Temasek and Bain, Vietnam's digital economy reached a value of 23 billion USD in 2022 and is on track to hit 49 billion USD by 2025 - the fastest in Southeast Asia.

Data from the Ministry of Information and Communications showed that the revenue of Vietnam's information and communications technology (ICT) industry reached 148 billion USD last year, accounting for 14.26% of the country's gross domestic product (GDP).

To achieve the goal of the digital economy making up 20% of Vietnam's GDP, it is necessary for the country to maintain an annual digital economic growth of about 20%, more than three times higher than the projected GDP growth.
Lessons learned from developed countries will be valuable suggestions for Vietnam to achieve this goal, insiders said.

According to Denis Brunetti, President of Ericsson Vietnam, Myanmar, Cambodia and Laos, 5G technology will enable industries to accelerate digital transformation and reduce energy requirements, as well as carbon emissions.

Ericsson will continue to share its experience with customers in Vietnam, helping to ensure successful coverage and capacity deployment, he was quoted by Dau tu (Vietnam Investment Review) newspaper as saying, adding that the focus will be on the stable network, simplicity and security.
A representative of the European Chamber of Commerce in Vietnam (EuroCham) said that an important lesson from their experience in the EU is to harmonise data protection standards to minimise negative impacts and build public and business trust

Meanwhile, David Liden, Trade Commissioner of Sweden in Vietnam, said that since 2000, his country has issued the Electronic Signatures Act, which is helpful in signing, storing and tracing important documents such as employment or service contracts.

This action has helped reduce emissions from physical movement, paper and the energy used for storage, he went on.

For Vietnam, Vietnamese ICT businesses expect the Government and ministries and sectors to quickly complete a legal system in line with the requirements of international integration and digital economy development, as well as with international standards.
It is necessary for the National Assembly to consider promulgating the revised Law on Electronic Transactions with appropriate regulations and mechanisms to regulate the activities of organisations, individuals and businesses which are compatible with the digital economy, they said.
Small- and medium-sized enterprises, which play a vital role in the digital transformation process, should be encouraged to invest in the digital economy.

The formulation and implementation of a project on the digital transformation of State-owned enterprises by 2025, with an orientation to 2030 are also a must, they added./
Q.Hoa t.h / TTXVN