Vietnam-Brazil People-to-people Has Ample Potentials to Develop
Nguyen Phuong Nga, President of the Viet Nam Union of Friendship Organizations (VUFO) met with Marco Farani, Brazilian Ambassador to Vietnam in Hanoi on April 7. During the meeting, she said the bilateral relations between Vietnam and Brazil have abundant opportunities to develop. VUFO and the Brazilian Embassy will cooperate to promote activities to consolidate the two people's cooperation.
According to Nguyen Phuong Nga, Brazil, and Vietnam has traditional, longstanding cooperation and friendship. President Ho Chi Minh spent several years in Rio de Janeiro (a city in Brazil) on his journey to find a method to liberate the country. In 2022, Pedro De Oliveira, a Brazilian who wrote the book: "Ho Chi Minh: Life and Career of the Leader of Vietnam's national liberation" won the highest prize in the 8th National Awards for External Relations.
Brazil is an important partner of Vietnam in the Latin American region. The two support each other in multilateral forums. With the fruitful foundation of the two countries' friendship, Nguyen Phuong Nga believes that the relations have potential to develop.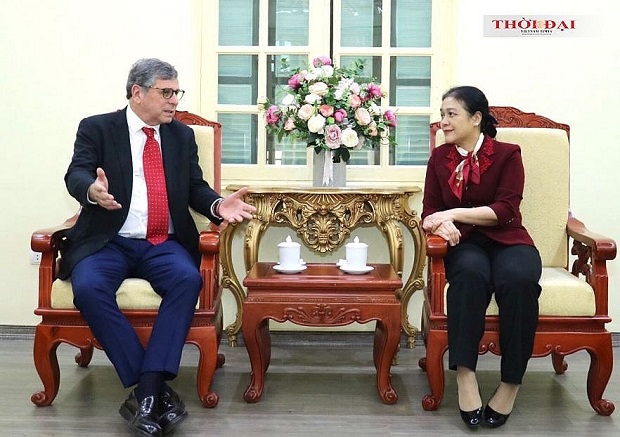 VUFO President Nguyen Phuong Nga (right) talks with Marco Farani, Brazilian Ambassador to Vietnam at the meeting (Photo: Thu Ha).
Ambassador Marco Farani expressed his delight at the positive cooperation results that the two countries have achieved. The Ambassador said that there is a growing interest among Brazilian experts and engineers to live and work in Vietnam. With the upcoming launch of the Portuguese-Vietnamese Dictionary, Vietnamese students will have valuable resources to learn Portuguese and Brazilian culture. The Ambassador hoped that Vietnam would be a bridge to support Brazil in promoting relations with Asian countries.
On this occasion, Nguyen Phuong Nga congratulated Marco Farani on his new assignment in Vietnam. The President of VUFO believes that with his experience and enthusiasm, Marco Farani will make a positive contribution to the relations between the two countries.
Long Phạm / Vietnamtimes