Vietnamese-Cambodian flood victims receive support
Vietnamese people and some Khmer families in Cambodia who were affected by floods in Kampong Cham Province received gifts and reliefs from a Vietnamese mission on October 5.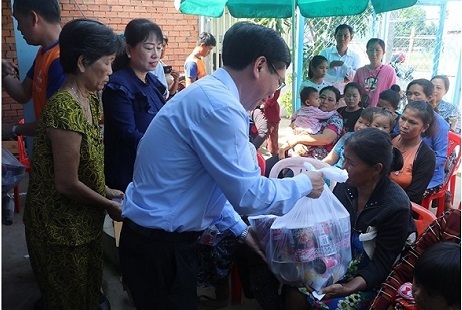 Giving gifts to Vietnamese-Cambodians in Kampong Cham City. Photo: NDO.
As reported by Nhan Dan Newspaper correspondents in Cambodia, the delegation consisted of representatives from the Vietnamese Embassy, the Khmer-Vietnam Association and the Vietnam Business Club in Cambodia, as well as representatives from the media.
Speaking at the gift-presenting ceremony held in Boeng Kok Ward, Kampong Cham City, Kampong Cham Province, Vietnamese envoy to Cambodia Lai Xuan Chien, the head of the mission, encouraged members of the local disadvantaged households, especially those suffering losses during the disaster, to soon overcome difficulties.
According to Chien, compared to before, the lives of Vietnamese people in Kampong Cham Province have been improved. Hopefully in the coming years, they will gradually integrate into the local community and consider Kampong Cham their second home, Chien said.
On the occasion, he also expressed his sincere thanks to local authorities in helping families of Vietnamese-origin to gradually integrate into the local society and contribute to the host country's development.
The delegation presented about 200 gifts, each worth US$25, including instant noodles, canned fish, condensed milk and a portion of cash to families of Vietnamese and Khmer ethnicity affected by the flooding in Kampong Cham Province.
On October 5 and 6, the mission has visited and presented gifts to about 600 families of Vietnamese and Khmer families in the two provinces of Kratie and Steung Treng.
The last flood has caused damage and affected houses and property, but so far, overseas Vietnamese in the three provinces remain safe, without any loss of life.
T.H.