Foreigner in Vietnam Distributes Food to People in Need Amid Covid-19
A foreigner in Ho Chi Minh city named Tchico recently volunteered to be a shipper, delivering food to poor people around Thao Dien ward.
At noon on August 10, Thao Dien area (Thu Duc city) was deserted. On Xuan Thuy street appeared a foreigner wearing a mask, shorts, a tank top, sweaty hands and feet, running a motorbike filled with rice and canned fish.
He is Tchico (42 years old, French nationality), boxing coach. Regularly over the past 10 days, Tchico has delivered food to poor neighbors in Thao Dien area.
Distributing food, asking friends to support
Stopping in front of the alley of street 59, Thao Dien ward, Tchico was struggling, when two people ran out from the inn.
"You give rice right?", one said excitedly.
Not fluent in Vietnamese, Tchico only mumbled a few words "Hanh, Hanh" and then handed rice to 11 inns here in turn.
"Hanh, Hanh" that Tchico mentioned is Hanh, who initiated the charity rice distribution campaign. She is the owner of a phone shop in Thao Dien area, and together with her friends, contribute and share difficulties with people in the area.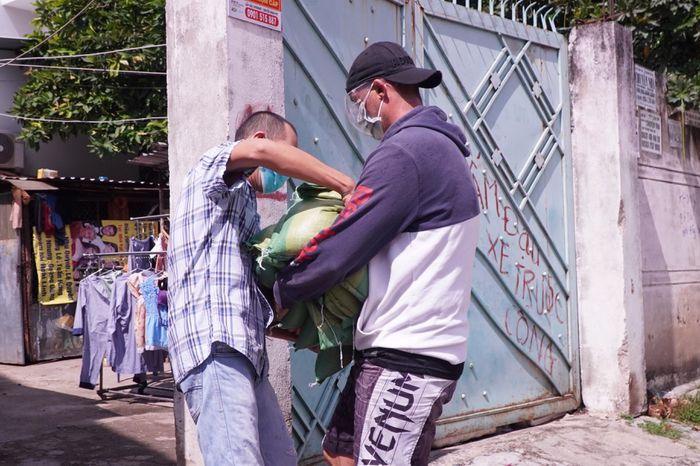 Tchico distributes rice to people in the alley of 59th Street, Thao Dien Ward. Photo: Zing
Tchico has been a customer of Hanh's shop for many years, seeing that the work is meaningful, he offered to lend a hand.
"Tchico texted me many times, asking if I needed any help, but I was afraid to bother, so I politely refused. When the city implemented the distance in early August, I couldn't find anyone so I texted Tchico, 30 minutes later Tchico was there. He drove me to the market to buy eggs, rice, and instant noodles, and then took the food to the poor," said Hanh.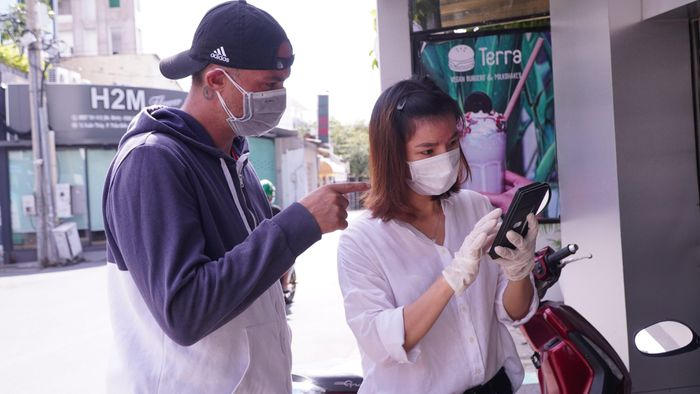 Hanh showed Tchico the way to distribute rice. Photo: Zing
On the other hand, he also called on his friends from France to contribute money to Hanh, as an extra part for the less fortunate. The recipients this time are not only Vietnamese but also some foreigners "stuck" in the city.
They are like Tchico - in a strange place alone, not good at Vietnamese and need a lot of help right now.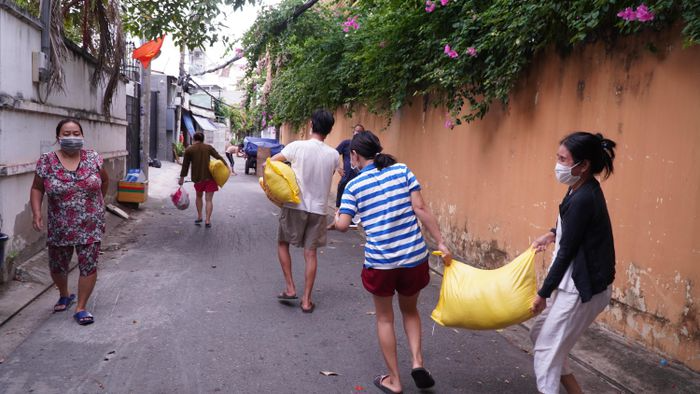 People on 47 street receive rice from Tchico. Photo: Zing
Life in Vietnam
Tchico is a French man who came to know about Vietnam through his brother's introduction. In 2004, he flew to Ho Chi Minh city, lived in Thao Dien area and opened a boxing center for 17 years.
The work has been smooth for many years, but since the past two years, it has been interrupted many times because of the pandemic. For a few months, the center was closed, so Tchico had no job.
The work of distributing rice is a bit difficult because of having to drive a lot in hot weather, but Tchico is very happy. Photo: Zing
Having lived for a long time in Ho Chi Minh city, Tchico fell in love with a Vietnamese girl and they have a 3-month-old baby together. His wife and children live in Bien Hoa (Dong Nai), and Tchico lives in Ho Chi Minh city with a cat. Due to the pandemic, he could not visit his wife and children, making him very sad.
"Many people are worried when they see me going out all day amid Covid-19. But I have been given 1 dose of vaccine, my body is still young and I also ensure compliance with 5K. The job is a bit hard because I have to drive a lot in the hot weather but I feel very happy." Tchico said.
Vietnam for Tchico is a wonderful country. Here, he has family, work and friends. The French man hopes the pandemic will soon pass so he can visit his wife and children and return to work as usual.
Q.Hoa t.h / Thoidai