UN Resident Coordinator in Vietnam Granted VUFO's Highest Award
For all his valuable contributions to the friendship between the United Nations and Vietnam and to Vietnam's development, Kamal Malhotra was awarded the medal for 'Peace and Friendship among Nations.'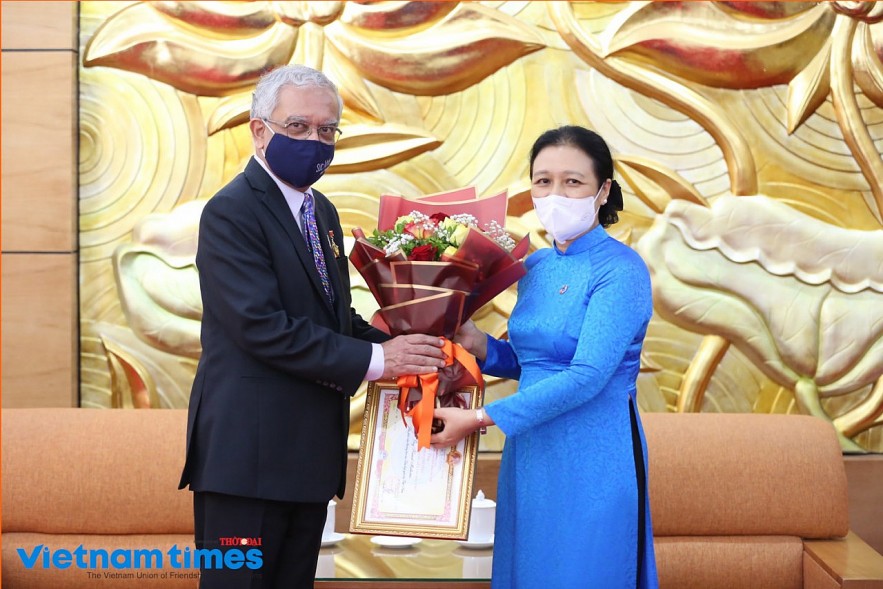 Ambassador Nguyen Phuong Nga, President of the Vietnam Union of Friendship Organization (R), and Kamal Malhotra, United Nations Resident Coordinator in Vietnam. (Photo: Tuan Viet)
The Vietnam Union of Friendship Organization (VUFO) held a ceremony to grant Kamal Malhotra, United Nations (UN) Resident Coordinator in Vietnam the medal for 'Peace and Friendship among Nations' to honor his contribution to the development of Vietnam and the Vietnam - UN relations on August 12.
The ceremony was attended by Ambassador Nguyen Phuong Nga, President of the Vietnam Union of Friendship Organization, Kamal Malhotra, United Nations Resident Coordinator in Vietnam, Shin Umezu, Head of Office, the United Nations Resident Coordinator's Office in Vietnam, Kamal Malhotra's family and representatives from both agencies.
In her remark, ambassador Nguyen Phuong Nga congratulated Kamal Malhotra on his successful tenure in Vietnam and thanked him for his contributions to the country and people of Vietnam and the success of Vietnam on the way to sustainably develop and build a prosperous and happy country.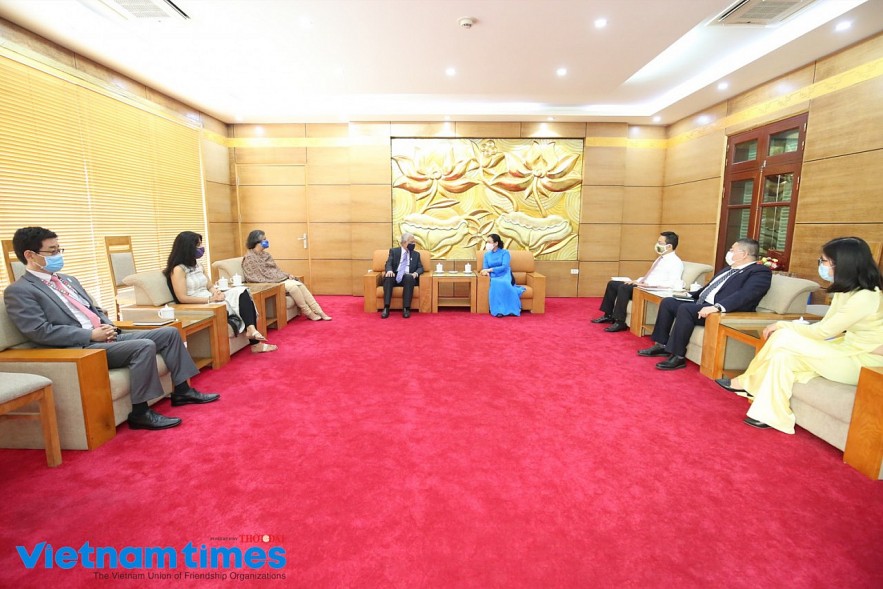 At the ceremony. (Photo: Tuan Viet)
She hoped that Kamal Malhotra, as a close friend of Vietnam, would continue to support the country and make contributions to maintaining peace and promoting sustainable development in the world.
Speaking about Kamal Malhotra's contribution to Vietnam, Nga said: 'With his extensive knowledge and experience in many fields, from politics, economics, development diplomacy to peacekeeping activities, with his strong sentiments for Vietnam, during his 5-year-tenue in Vietnam as the Chief of the UN Mision, representing the UN Secretary in General in Vietnam, Mr. Kamal Maholtra has led the UN Country Team to work closely with Vietnam's counterpart to successfully fulfill our common objectives.
Together with the UN agencies in Vietnam, he has played an important role in enhancing Vietnam's participation in UN peacekeeping operations and co-organizing various meaningful and impressive activities relating to urgent issues.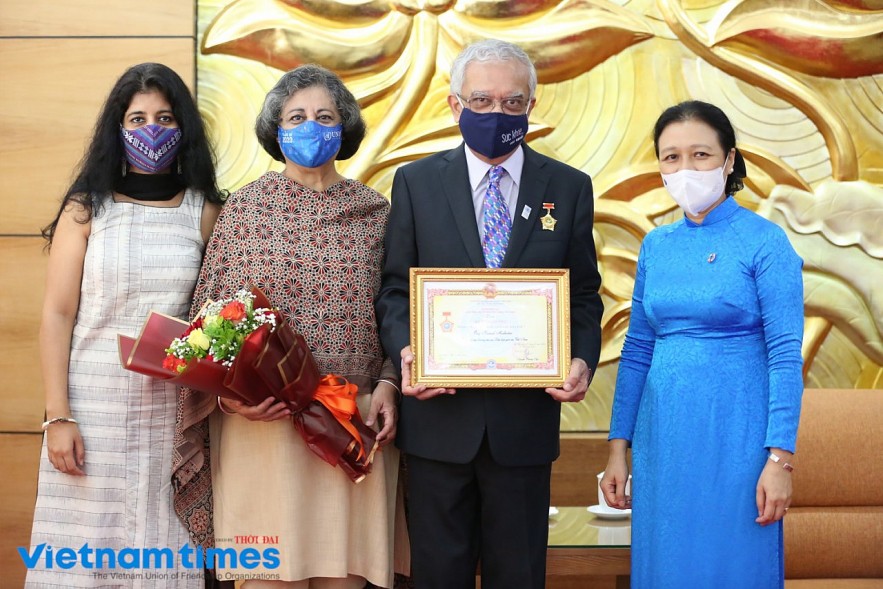 Ambassador Nguyen Phuong Nga and Kamal Malhotra's family. (Photo: Tuan Viet)
When discussing the complex developments of the Covid-19 pandemic, he and other UN agencies have actively assisted Vietnam by sharing information, experiences, and policy advice as well as mobilizing Covid-19 vaccines and medical supplies for Vietnam. Up to now, the United Nations is one of the largest vaccine suppliers to Vietnam through the COVAX Facility with nearly 10 million doses.
For all his valuable contributions to the friendship and cooperation between the United Nations and Vietnam and to Vietnam's development, VUFO Presidium awarded Kamal Malhotra the organization's highest distinction - the medal for 'Peace and Friendship among Nations.
In his response to VUFO, Kamal Malhotra thanked ambassador Nguyen Phuong Nga, VUFO and relevant agencies of Vietnam for their continuous support during his term in Vietnam. He believed that the relations between the United Nations and Vietnam would further develop in the future. The UN resident coordinator in Vietnam also affirmed that he would continue to support and promote cooperation activities with Vietnam in the coming time.
Q.Hoa t.h / Thoidai