Mexican Ambassador to Vietnam Vows to Boots Bilateral People-to-people Exchanges
Ambassador Alejandro Negrín affirmed that he would continue to support Vietnam's role in international organizations, promote bilateral relations, and was willing to coordinate with VUFO to strengthen the relationship between the two countries and peoples.
Ambassador Nguyen Phuong Nga, President of the Vietnam Union of Friendship Organizations (VUFO) received newly-appointed Ambassador of Mexican to Vietnam Alejandro Negrín in Hanoi on March 15.
Nga sent her warmest welcome and congratulations to the Mexican diplomat. She hoped the ambassador would have a successful and memorable working term in Vietnam.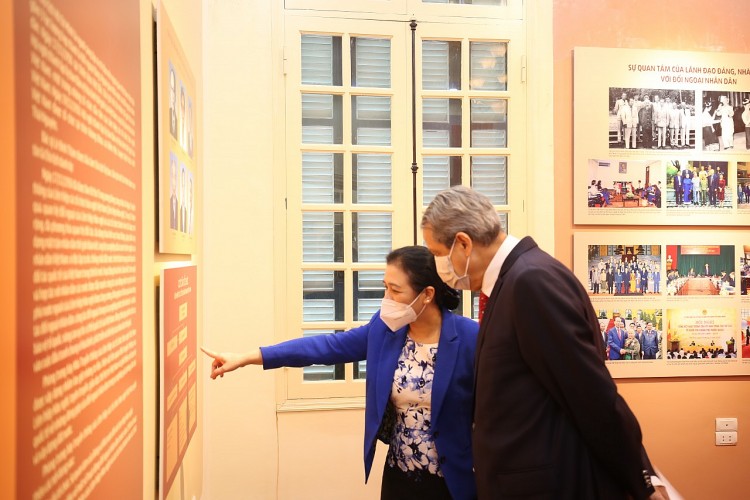 Ambassador Nguyen Phuong Nga introduces VUFO's activities. (Photo: Valerie Mai/ VNT)
Nguyen Phuong Nga informed Alejandro Negrín of the three pillars of the Vietnamese diplomacy system, including party-to-party, state-to-state, and people-to-people. As the leading organization in people-to-people activities, VUFO has been holding many activities to deepen mutual understanding, boost friendship and cooperation between Vietnam and its partners.
She proposed to boost cooperation between the Mexican Embassy to Vietnam and VUFO in connecting the two peoples, promoting art and culture exchanges. VUFO President suggested both sides discuss the possibility of establishing the Vietnam - Mexico Friendship Association, a foundation to promote the establishment of a comprehensive partnership framework.Nga believed that ambassador Alejandro Negrín would make positive contributions to the bilateral relations, support Vietnam's candidacy for the UN Human Resources Council for the 2023 - 2025 tenure as well as at other multilateral and international forums.
On the basis of the good achievements in cooperation of politics, diplomacy, economy and trade, Mexican Ambassador Alejandro Negrín said, during his tenure, in addition to deepening the political relations between the two countries, he would focus more on people-to-people exchanges.
The Mexican diplomat expressed his delight at Vietnam's socio-economic development and highly appreciated Vietnam's contributions at multilateral institutions. He committed to continue to support Vietnam's role in international organizations, promote bilateral relations. The ambassador confirmed his willingness to coordinate in VUFO's activities to strengthen the Vietnam-Mexico friendship.
On this occasion, VUFO President Nguyen Phuong Nga invited the Mexican ambassador to visit and work in some localities of Vietnam.
Q.Hoa t.h / Thoidai