Vietnamese expats in Japan launch fundraising campaign to help Vietnam's COVID-19 fight
Tokyo (VNA) – The Vietnamese embassy in Japan on June 13 launched a fundraising campaign to collect money for Vietnam's COVID-19 vaccine fund in response to the call of the Vietnam Fatherland Front's Central Committee on "National unity to fight COVID-19."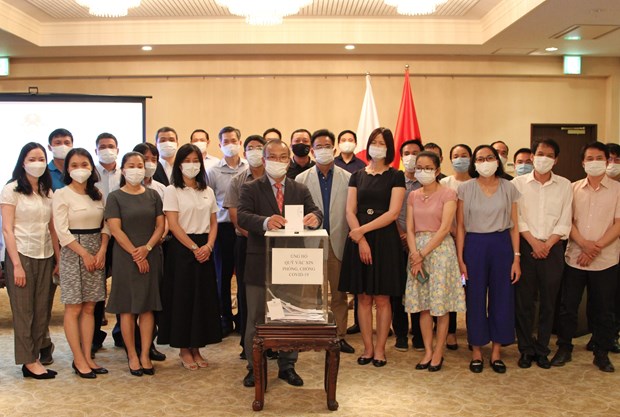 Vietnamese expats in Japan donate to Vietnam's COVID-19 vaccine fund. (Photo: VNA)

Speaking at the launching ceremony, Vietnamese Ambassador to Japan Vu Hong Nam urged all staff members of the embassy and Vietnamese representative offices in Japan as well as the Vietnamese community in Japan to join hands with the homeland in order to achieve the dual targets of curbing the spread of COVID-19 while promoting socio-economic development.
Ambassador Nam highly appreciated the prevention measures and mutual support among the Vietnamese community in Japan during the COVID-19 pandemic, noting that the number of community-transmitted cases among Vietnamese expats in Japan remains particularly low.
At the ceremony, over 500 million VND (more than 21,780 USD) was contributed to the COVID-19 vaccine fund.
Overseas Vietnamese also expressed their strong confidence in the Vietnamese Government's effective measures to fight the pandemic, and hoped that with the concerted efforts of the Government and people at home and abroad, Vietnam would soon overcome the epidemic.
According to statistics of the Japanese Ministry of Justice, there were 448,053 Vietnamese living in Japan as of the end of 2020, up more than 10 times from a decade ago and accounting for more than 15 percent of the total number of foreigners in Japan./.
Q.Hoa t.h / TTXVN