Culinary Diplomacy Promotes Vietnam-Australia Businesses Cooperation
"With the potential of Vietnamese cuisine, culinary diplomacy is a meaningful activity to enhance cultural understanding and open up more cooperation opportunities for Vietnamese-Australian businesses," said Australian Ambassador to Vietnam Andrew Goledzinowski.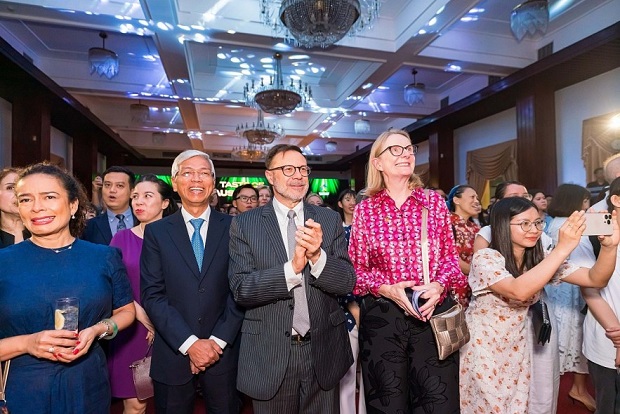 From left: Vo Van Hoan, vice chairman of Ho Chi Minh City People's Committee, Australian Ambassador to Vietnam Andrew Goledzinowski and Sarah Hooper, consul general of Australia at the Taste of Australia 2023. Photo: KT
Last week, Taste of Australia 2023 took place in Ho Chi Minh City. People in Ho Chi Minh City had the opportunity to experience high-class dishes made from Australian ingredients such as wagyu beef, truffle, lamb, oysters and enjoy famous drinks from the "Land Down Under."
Taste of Australia is an annual activity organized by the Australian Embassy in Vietnam and the Australian Consulate General in Ho Chi Minh City since 2016 to honor Australian cuisine and culture. This year's event is the focus of activities to celebrate the 50th anniversary of diplomatic relations between Australia and Vietnam (1973-2023).
Taste Australia 2023 is also an opportunity to introduce Vietnamese cuisine made from Australian ingredients. Attending this year's event, famous Vietnamese-Australian chef Luke Nguyen said, over the years, he proved how great Vietnamese cuisine is by using high-quality ingredients and enhancing the experience to serve traditional Vietnamese cuisine in a modern style.
Cuisine is an effective channel for cultural exchange as suggested by Ambassador Andrew Goledzinowskia when talking to reporters. He said that he witnessed the cooking of Vietnamese dishes, enjoyed Vietnamese food, and believed that Vietnamese cuisine could completely conquer Australian diners.
"Vietnamese businesses need to have more activities to reach Australian consumers so they can experience and talk more about Vietnamese food. Showing Australians how it's prepared will increase their chances of persuasion," said Ambassador Andrew Goledzinowskia.
Agriculture is considered one of the potential areas of cooperation between Australia and Vietnamese enterprises. For Vietnamese businesses to access the Australian market, the Australian Ambassador to Vietnam said that Vietnamese businesses need to focus on understanding and complying with Australian standards, of which organic agriculture is a typical example.
"Vietnam-Australia relations have a lot of potential. The combination of Vietnamese and Australian traditional culinary cultures is also a connection point and a prospect for cooperation between businesses of the two countries in this field," said Australian Ambassador to Vietnam Andrew Goledzinowski at the event.
Long Pham / Vietnamtimes