Vietnam treasures traditional ties with African countries: Official
Deputy Minister of Foreign Affairs Ha Kim Ngoc attended a banquet hosted by the embassies of African countries in Hanoi on May 25 to celebrate the 60th anniversary of Africa Day (May 25, 1963 - 2023).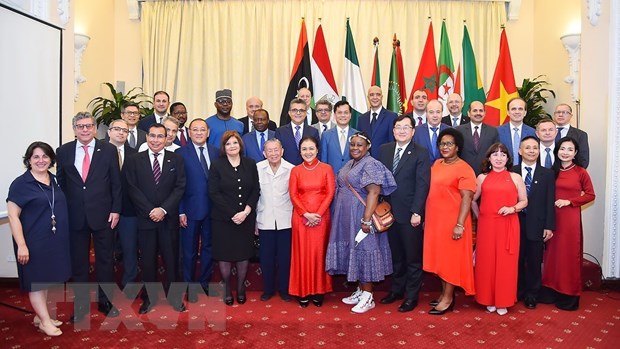 At the event (Photo: VNA)
The event was attended by representatives of the embassies of many African countries, including Egypt, Algeria, Angola, Libya, Mozambique, Morocco, South Africa, and Nigeria, along with those of the diplomatic corps in Hanoi and officials from many Vietnamese ministries and sectors. Ambassador Nguyen Phuong Nga, President of the Viet Nam Union of Friendship Organizations attended the event.

Addressing the event, Ngoc highlighted the significance of Africa Day, which marks the foundation of the Organisation of African Unity (OAU), which is now the African Union (AU), exactly 60 years ago.

He highly valued the enormous development achievements of Africa over the past years, especially the establishment of the African Continental Free Trade Area (AfCFTA), and hailed contributions by the AU and people of African countries to the settlement of global challenges to help maintain regional and global peace, stability, cooperation, and development.

The Deputy Minister voiced his belief that in the near future, Africa will become one of the new growth powerhouses in the world. 

With regard to bilateral relations, Ngoc affirmed Vietnam always treasures the traditional cooperation and friendship with African countries, and adding that it is ready to enhance partnerships with African countries in economy, trade, and investment, among others and act as a bridge connecting the AU and the Regional Economic Communities (RECs) with the Association of Southeast Asian Nations (ASEAN).

He called on African countries to continue supporting Vietnam's legitimate concerns and interests, and backing each other at multilateral forums such as the United Nations and the Non-Aligned Movement.

Representing African ambassadors to Vietnam, Moroccan Ambassador Jamale Chouaibi stressed that relations between Africa and Vietnam took shape during their struggles for national liberation and safeguarding.

He expressed his delight at the unceasingly promoted ties between Vietnam and African countries, particularly in trade, investment, tourism, banking, and digital transformation. Vietnam is among important trading partners of Africa, with bilateral trade topping 7 billion USD in 2022, and also a development model for many countries in the continent, the ambassador added.
Deputy Minister of Foreign Affairs Ha Kim Ngoc (R) and Moroccan Ambassador Jamale Chouaibi toast at the celebration of the 60th anniversary of Africa Day in Hanoi on May 25. (Photo: VNA)
Palestinian Ambassador Saadi Salama, head of the diplomatic corps in Hanoi, highly valued the relations between Vietnam and African countries, noting their connections have been growing in multiple fields, including politics, trade, investment, agriculture, health care, peace building, and sharing of economic reform experience.

Salama believed that the long-standing friendship and solidarity between Vietnam and African nations will keep flourishing for the sake of both sides./.
Q.Hoa t.h / TTXVN